If you're anything like us, you've been devouring articles and reports that could provide any indication of when the foodservice industry will not only stabilize, but prosper. Perhaps like us, you're a bit frustrated with the predictions – especially as they contain disappointedly long timelines or are completely contradictory depending upon the source. Well, we don't have a crystal ball either, but for our collective sanity, we're going to try to make sense of what we can.
It's clear at a macro level that absolutely every prognostication is linked to the penetration of the vaccine globally. In the U.S., every scenario we've seen is underscored by assumptions that the majority of the population will be vaccinated by a certain date. At present, we are vaccinating at one-half the rate we need to be, with some 1.7 million shots given per day vs. the 3.0 million required to fast-forward us out of this. While drug makers are confident they will soon be delivering enough to meet that goal, there is still the matter of administering them. Another day, another challenge…with a solution yet unknown.
It seems that when one cannot force clairvoyance from experts, one turns to consumer sentiment. Perhaps if consumers are bombarded with enough surveys, they will give us clues. But the truth is, what consumers say they will do and what they actually do are often two different things. Are there signs of a pent-up demand to "get back out there"? Absolutely. But there are also signs of disbelief in an increasing freedom to move about. One of the most popular pandemic-inspired memes, "When Covid is Over", illustrates this pessimism, equating covid's meaningful end to something that is as likely to happen as meeting their favorite celebrity or losing weight.1 Dang it.
If there is magic to be had, most agree it will be gradual. Spring unchanged, a loosening of the collar in Summer, and a marked improvement by Fall that gets incrementally better life-wise and economy-wise by Summer 2022.2
But how does that trickle down into the outlook for foodservice by segment? Here's what we think:
B&I
While many large companies have announced plans to return-to-the-office by the end of Spring/Summer 2021, some have announced work-from-anywhere policies, and others have relocated their headquarters entirely.3 According to recent surveys, a full 4 in 10 employees don't have a clue about their company's plans to return,4 6 in 10 want options to continue WFH, and even those who want to return aren't looking to return to traditional schedules.5 In addition, any semblance of a return would likely need to factor in the simultaneous return of K-12, for parents' sake. Therefore, as far as corporate cafeterias are concerned, there is nothing that implies "business as usual".
In the near-term, our educated guess involves preparing for lower daily meal demands and grab-and-go formats as we expect workers to return in smaller numbers via staggered schedules and for employers to remain cautious. In the long-term, we advise preparing for "second tier business hubs" (e.g., Austin, TX and Miami, FL) and considering new business models to serve co-working environments for those shifting from traditional offices to shared, flexible workspaces.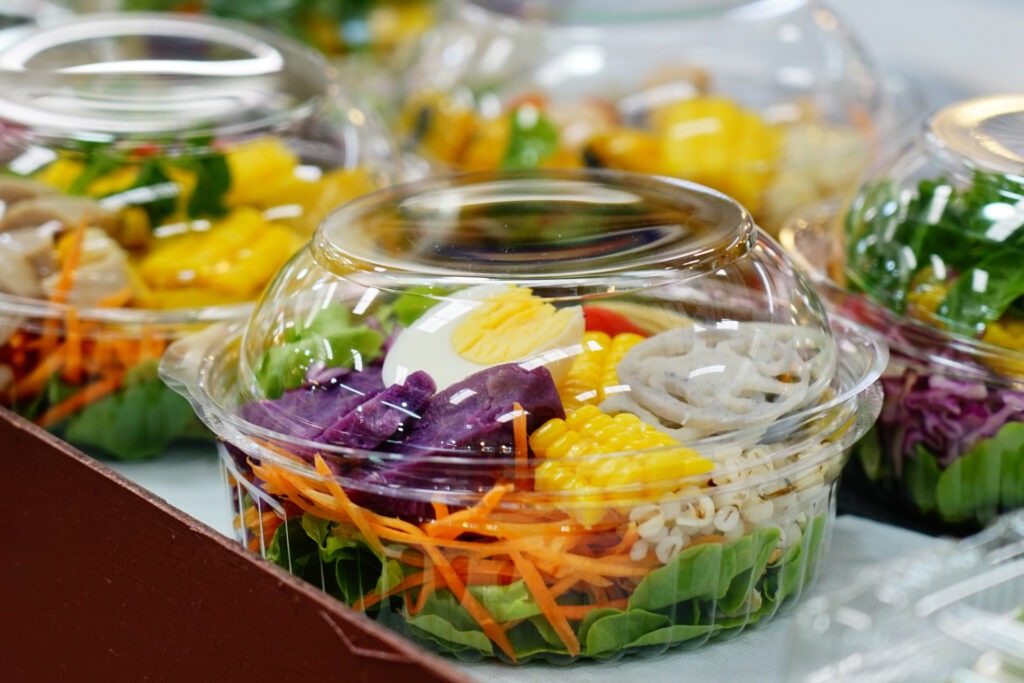 C-Store
Despite fighting its way back after the loss of commuter traffic, this segment shows great promise. Their staggering distribution (3x that of supermarkets) and access (9 in 10 Americans live within 10 miles of one),6 as well as a high incidence of store entry (5 out of 10 fuel visits)7 are strong enough reasons-to-believe in the potential of this channel. But even more intriguing is the "doubling-down on food",8 which represents a large share of both in-store sales and profitability.9
For the near term, we recommend a focus on two buzzworthy areas: take-home, family-size meals which will be boosted by investments in 3rd party delivery and mobile pickup10 and though relatively flat, grab-and-go.11
C&U
Though some are operating in-person as we speak, much is expected of Fall 2021. There are already rumblings of a green light on college sports, which bodes well for campus life. Oddly enough, we are less cautious in the short-term and more concerned about the long haul. There appears to be a perfect storm brewing for the future:
Enrollment losses within a tuition-dependent model.12 Far beyond the current gap year behavior, the number of high school graduates expected to enroll is set to peak in 2025 and decline steadily through the end of 203713
State and local government budget cuts for universities14
Mounting debt that led schools to issue a record number of bonds last year15
Staggering student loan debt that discourages the next generation from attending, possibly setting their sites on trade schools, coding bootcamps, etc.
The combination of these factors have put nearly 20% of colleges at risk of closing.16
For the near term, we believe grab & go will dominate, but foresee more schools forced to think creatively to quickly re-open cafeterias, perhaps borrowing strategies from B&I, e.g., staggered dining in shifts.
K-12
Most of the headlines in K-12 point to the "crippling losses" and financial hardships of today's nutrition programs. According to a recent SNA survey, 5 in 10 nutrition directors reported a loss in 2019/20, 6 in 10 anticipate one in 2020/21, and financial loss remains their top-ranked concern.17 We see schools draining reserves to feed kids at home, suffering budget cuts along with rising costs, calls for universal free lunch programs, requests for higher per-meal reimbursements from the USDA and the b-word (bailout) on the table. One of the more ominous predictions put the "back to normal" timeline at 2 to 10 years.18 To make matters worse, a full re-opening is further tested by the fact that young children aren't likely to be vaccinated until early 2022,19 and some 4 in 10 parents are against it or 'on the fence'.20
We expect current in-classroom experiments and the vaccination of teachers to set the stage for a full reopening of schools, but see other factors as a barrier to a full reopening of cafeterias. Experts predict the cafeteria will change and even be used less frequently.21 All signs point to more pre-packaged, grab & go and delivery formats.
Healthcare
While specific information in this segment is sparse, the need to feed workers, patients and visitors persists. At present, much has been made of investments in mobile to facilitate low-to-no touch order and pickup, at the expense of conversation around dining room re-entry.
Our limited information suggests that focus remains on meal kits, frozen meals, reheatables, and family fare to ease the burden of staff after long shifts, as well as individual grab & go for all.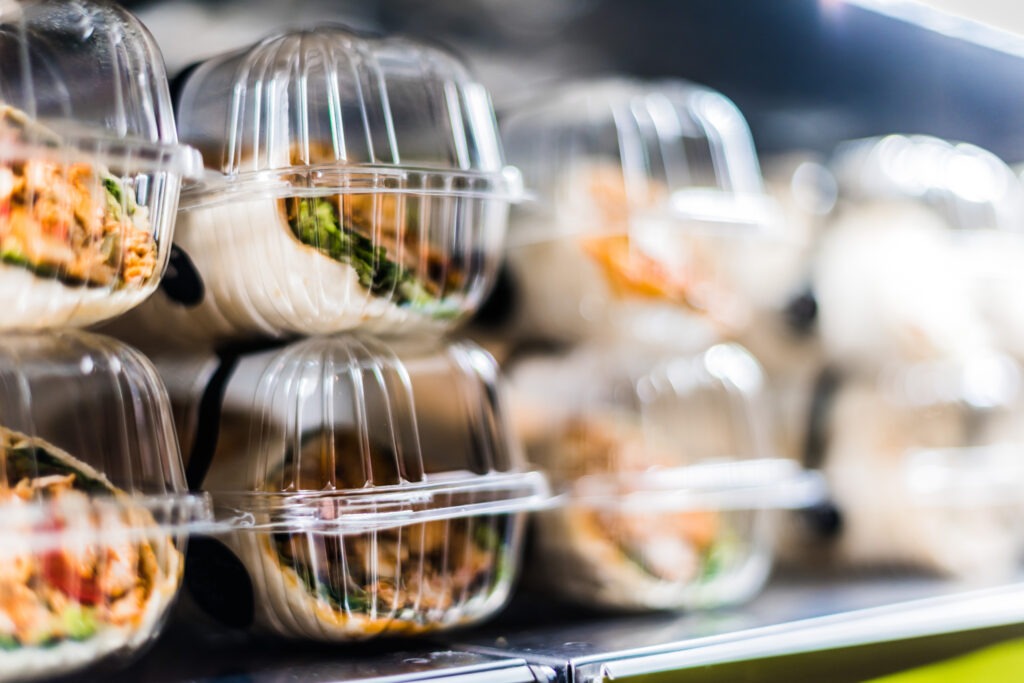 Travel & Lodging
There's no question this segment has been the hardest hit, suffering the highest declines in operator spend in the non-commercial category at -56%.22 It's also the segment with the longest timeline for rebound,23 with signs of life beginning in Spring 202224 and increasing to 2025.25 However, it does have a few factors working in its favor:
Frequent travelers are itching to get away again and are currently dreaming about, planning for or have already booked a vacation26
Those that have traveled over the pandemic have become far less concerned about health and safety27
The personal savings rate in 2020 is the highest on record28 and several studies show consumers planning a post-vaccination splurge.29 That splurge will likely include a vacation,30 affectionately known as "revenge travel"31
Fortunately for our domestic economy, those vacations will stay within the U.S.32 On the flip side, the sustained loss of business travel will be devastating, with some forecasting a return of only 70% of pre-Covid levels by 2023,33 and others predicting a permanent reduction in business travel of up to 40%.34
In this environment, we expect continued demand for pantry items and pre-packaged offerings, for catering to remain dormant and for buffets to die.35 We recommend prioritizing solutions for leisure travelers – and since travelers still want to maintain a safe distance – taking a fresh look at the potential of smaller accounts and prospects – those with smaller properties,36 those outside of urban centers37 and those in more remote areas.38
Commercial Restaurants
It depends on who you talk to. We've literally seen predictions for a post-pandemic "Roaring 20's" scenario as well as an "unlikely Roaring 20's return". But if there's one thing they can agree on, it's that consumers want to dine again, and servers want to serve. Curiously, many of the survival skills sharpened during the pandemic have been geared towards a future of off-premise. Operators continue to build digital ordering capabilities, invest in to-go packaging, pursue ghost concepts and consider drive-thru.39 It appears that operators expect a return to on-premise to be gradual, and off-premise to remain a key part of the business.40 At present, analysts foresee an industry rebound in late 2021-early 2022, but favor concepts with strong off-premise models.41
We recommend hot pursuit of fast casual – whose openings in 2019 outpaced the total restaurant market42 – and QSR, the only segment with double-digit growth projections for 2021.43 In addition, we recommend a focus on chains, which are estimated to move from a 47% share of U.S. locations in 2019 to a dominant 57% share in 2021.44 Finally, do whatever you can do to help struggling independents, those who make America's restaurant scene so vibrant.
Grocery/Prepared Foods
See our November 2020 blog edition, "Staying Prepared"
1 "When covid is over sounds like 'when I meet Harry Styles': The new pandemic meme, explained", The Washington Post, 1/26/21
2 "The Most Likely Timeline for Life to Return to Normal", The Atlantic, 2/22/21
3 "July Is the New January: More Companies Delay Return to the Office", The New York Times, 10/13/20
4 "Another Remote-Work Year Looms as Office-Reopening Plans Are Delayed", WSJ, 2/11/21
5 "The boss wants to see you: Is working from anywhere reality or fantasy?", SmartBrief, 2/19/21
6 "NACS State of the Industry Survey of 2019 Data & Nielsen TDLinx
7 "Technomic C-Store MarketBrief, 2019 via 2020 CSP C-Store Market Update, Winsight
8 "America's gas stations and convenience stores grapple with an uncertain future", CNBC, 3/18/20
9 "NACS State of the Industry Survey of 2019 Data & Nielsen TDLinx, via 2020 CSP C-Store Market Update, Winsight
10 "Mitch Morrison, CSP VP of Retailer Relations, Winsight Media and his retailer share group, The Operator Advisory Council
11 "Convenience Stores Report Strong Sales in 2020", WSJ, 1/11/21
12 "College enrollment likely to drop as schools consider staying closed until 2021", CNBC, 4/27/20
13 "Losing a Generation: Fall College Enrollment Plummets For 1st Year Students", NPR, 12/17/20
14 "Recession Forces Spending Cuts on States", Cities Hit by Coronavirus, WSJ, 7/08/20
15 "Bond Boom Comes to America's Colleges and Universities", WSJ, 12/26/20
16 "Coronavirus pandemic brings staggering losses to colleges and universities", ABC News, 4/28/20
17 "COVID-19's Toll on School Nutrition Programs", asbointl.org, 2/21
18 "School lunch as we know it is over. But for school nutrition directors, the lessons keep coming", The Counter, 6/18/20
19 "When will we return to normal? The question looms as Fauci says mask-wearing may continue in 2022", The Washington Post, 2/21/21
20 "Survey: 60% of parents would allow their K-12 student to get COVID-19 vaccine", K-12 Dive, 1/04/21
21 "K-12: Preparing for the Next School Year", IFMA, 6/23/20
22 IFMA SCOPE 2020 and Coronavirus Impact Model
23 "Coronavirus vaccines may help travel recover, but it may take years to fully rebound, experts say", CNBC, 11/28/20
24 "Slow Covid-19 Vaccine Rollout, New Variants Shift Some Business Plans", WSJ, 2/07/21
25 "Accelerating Travel Innovation After Coronavirus", Euromonitor International, 11/20
26 "Consumer Survey Finds 70 Percent of Travelers Plan to Vacation in 2021", Travel Leaders Group, 10/16/20
27 "Travelers on the move again", PwC, 2020
28 "2020 was the worst year for economic growth since World War II", The Washington Post, 1/28/21
29 "More Than 80% of Americans Plan Post-Vaccination Splurge", Lending Tree, 1/13/21
30 "Consumer Behavior: 13 Post Pandemic Trends to Watch", Ernst and Young study reference, NextRoll, 12/14/20
31 "Revenge travel is the phenomenon that could bring back tourism with a bang", The Washington Post, 7/29/20
32 "What to Expect From Travel in 2021", WSJ, 1/06/21
33 "Covid-19's Blow to Business Travel Is Expected to Last for Years", WSJ, 1/17/21
34 "The Covid Pandemic Could Cut Business Travel by 36% – Permanently", WSJ, 12/01/20
35 "Taking stock of the food and beverage forecast for hotel dining in 2021", Restaurant Hospitality, 11/20/20
36 "How Resorts and Hotels Are Preparing for Summer Travel", Adweek, Spring 2020
37 "When Will Consumers Resume Travel, And What Will Change?",
38 "Here are 8 ways travel will change after the pandemic", National Geographic, 10/05/20
39 "AS restaurants prepare for possible pent-up demand, consumers will call the shots", Nation's Restaurant News, 2/04/21
40 "Why The Post-Pandemic Era Could Be The Roaring 20's For Restaurants", 1/21/21
41 "As restaurants recover, their success formula will change", Restaurant Dive, 2/24/21
42 "Post-COVID Migration Patterns: How To Be Ready", Datassential, 2020
43 "IFMA SCOPE 2020
44 "How restaurants can thrive in the next normal", McKinsey & Company, 4/20