Private Label is in the Public Eye
Private Label is in the Public Eye
Calling itself the "Procter & Gamble for Millennials," San Francisco e-commerce company Brandless™ made its U.S. debut this past July eager to disrupt the CPG industry. The startup, which has secured over $50 million in funding, sells a variety of organic food and home goods all for an everyday low price of $3.
Brandless™ says it's able to keep its prices low by eliminating the BrandTax, a moniker the company hopes to trademark and defines as the "hidden costs you pay for a national brand."
---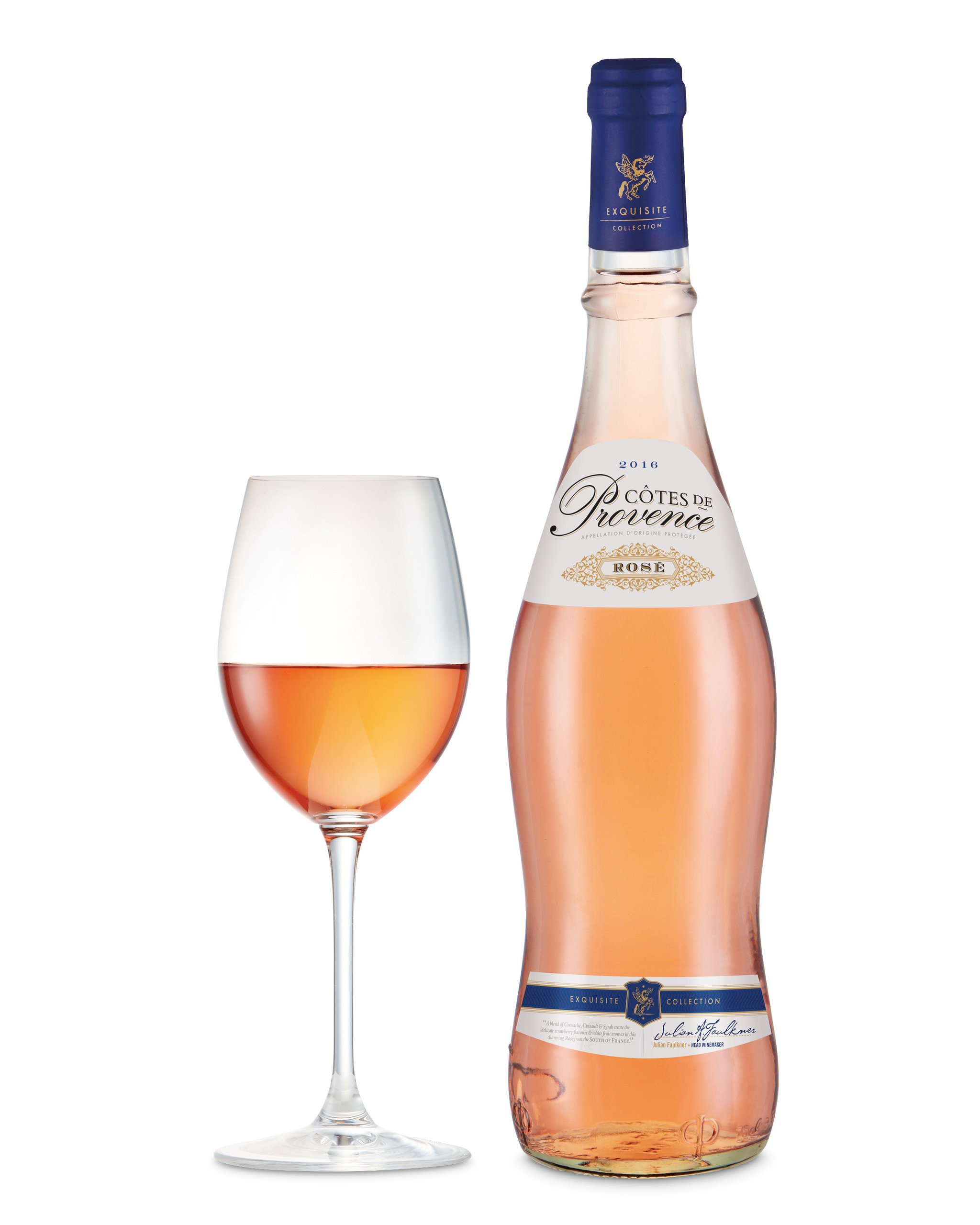 At the 33rd annual International Wine Competition in United Kingdom, The Exquisite Collection Cotes de Provence Rosé 2016 won a silver medal. Judges gave the wine top honors after two weeks of blind taste testing, describing its flavor as "ripe summer stone fruits with a generous acid palate and crisp bright finish."
But what surprised judges–and wine spectators–the most wasn't its $8 price point or French origin. It was that the wine belonged to Aldi's.
---
WHY IT'S HAPPENING
In its August 2017 Private Label Report, IRI reports that 49% of consumers say they are making sacrifices to make ends meet, with 29% reporting difficulties in affording groceries.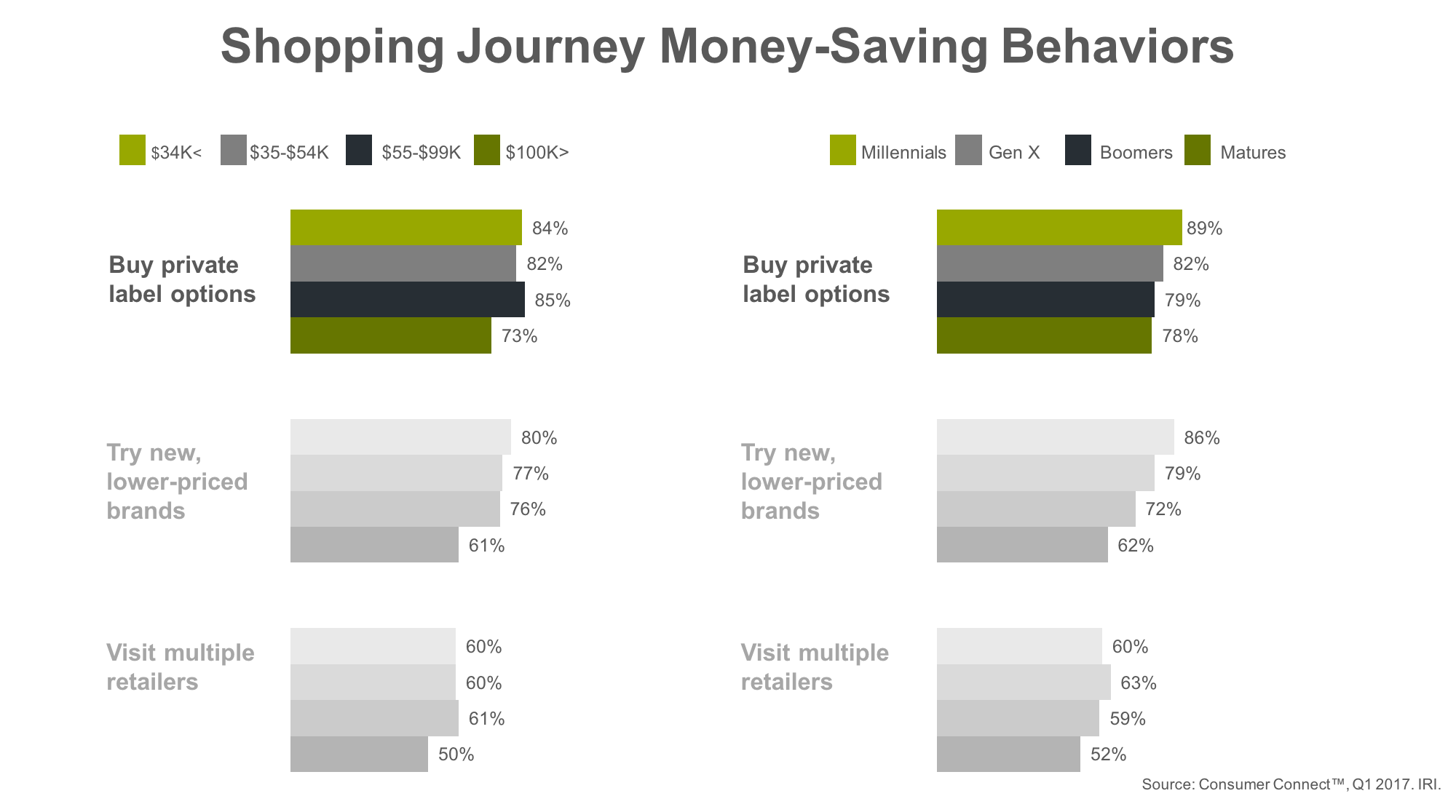 Consumers are embracing a variety of money-saving strategies to cut down on household costs, but opting for private labels is common across all generations and income brackets.
The cause is twofold:
Despite the creation of two million jobs in 2016, which brought unemployment to 4.5%, wage growth has been stuck at 2.5%[1] for the past two years. It's hitting younger consumers the hardest. On average, full-time, year-round working millennials are earning nearly $12,000 less per year than the national average for workers age 35–65.[2]
Private label has, in many instances, managed to bridge the quality gap with national brands. With a focus on premium and even super-premium tiered items (all natural, organic, non-GMO, etc.) private labels are delivering a better product experience to customers.
WHAT WE THINK

The value proposition of national brands vs. private label is being aggressively questioned by today's savvy consumer.

As private label brands have improved their quality and consumers are finding themselves with less discretionary income, shoppers are questioning if national brands are really worth the extra cost.
WHAT'S NEXT
To stave off private label encroachment, national brands must do a better job of demonstrating why their products are worth the extra investment.
Deliver on both sides of the equation
The majority of national brands built their reputation–and consumer preference–on signature product formulations that taste great, perform reliably and consistently deliver a high-quality experience again and again. And that used to be enough. But today's consumer also wants more transparency with shorter, cleaner ingredient statements. Private labels often struggle to successfully deliver on both sides of this value equation. If national brands can consistently deliver an exceptional product experience while making it with cleaner ingredients, consumers will pay the extra cost.
Focus on customer engagement
Younger customers, particularly millennials, want more from brands than just a high-quality, good-tasting product. It's about what else that brand brings to the table to enrich their lives. Advertising, event activation and social media strategies can bring the value-beyond-product story to life through personal connections.
Be purposeful with price promotions
While strategic price promotions are important in driving incremental purchases, long-term discounts undermine the value of a brand. They also position your brand as competing directly with a retailer's own brand.
Invest in strategic retailer programs
Unlike private labels, which traditionally have very low marketing funds, national brands possess highly coveted marketing and advertising dollars. As traditional retailers face ever-increasing competition from non-traditional players like Amazon and Brandless™, national brands investing in ad campaigns—that drive customer visits and higher basket rings—are incredibly valuable.
[1] "Why Wage Growth is Too Slow and What To Do About It." Washington Post. September 1, 2017.
[2] "Here's How Much Millennials Are Making in One Chart." Fortune Magazine. March 29, 2017.