Since the early 2000s we've been reading about the emerging superfood status of mushrooms. As awareness of the physical and mental health benefits grew, interest in ancient Eastern remedies continued, and the word "adaptogens" became part of our industry vernacular, we've seen the number of studies, patents and possibilities rise. Combine this with its incredible versatility in both form and function and the over 2,000 edible varieties,[1] and the mushroom feels quite mighty. Here are the results of our forage:
Culinary Capabilities. Our first inclination is to check out the kitchen, where chanterelles, king trumpets, lion's mane and oyster mushrooms are adding visual and textural interest to the plate.[2]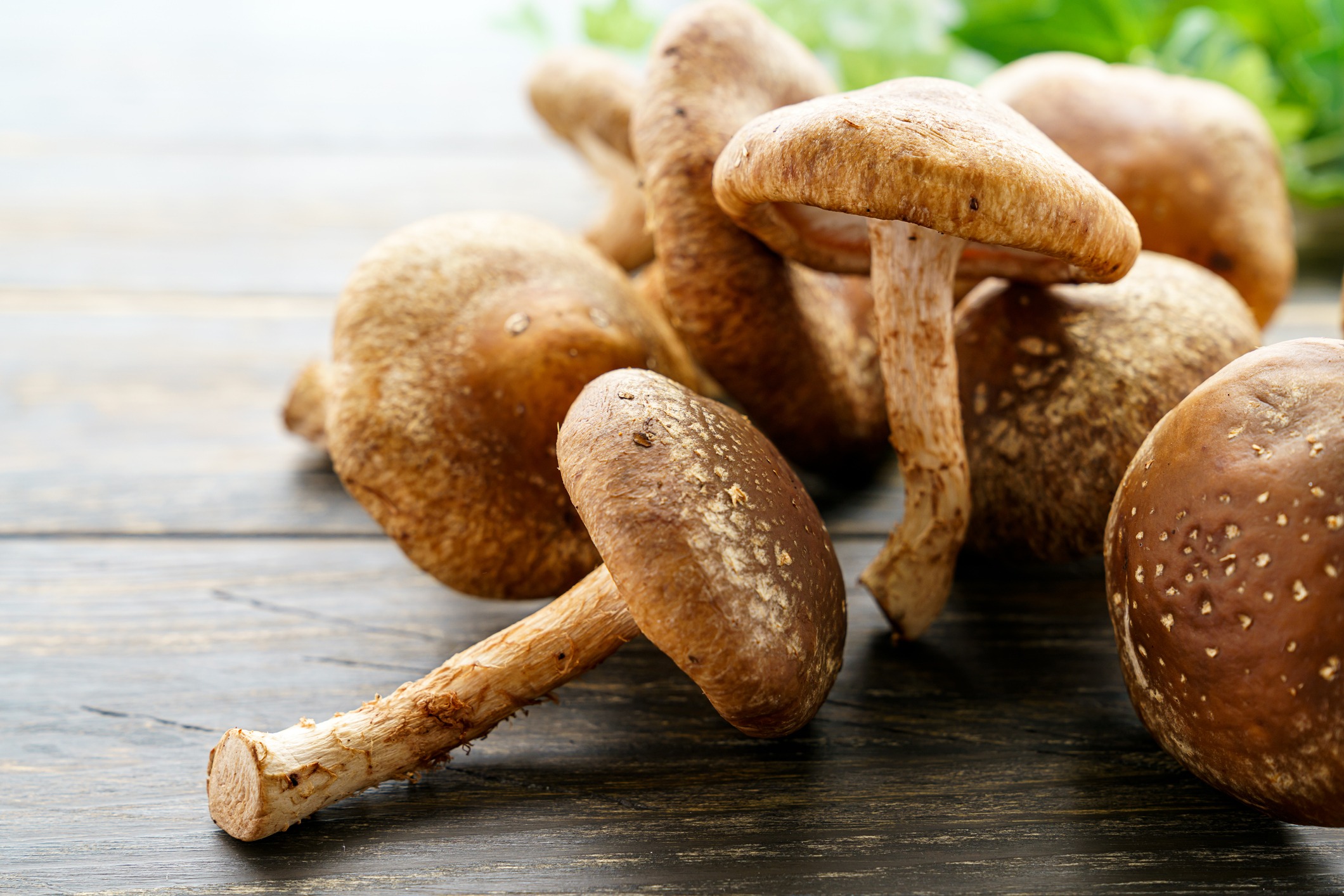 Lab Experiments. A quick stop in Europe yields mock salmon, courtesy of Legendary Vish, a 3D-printed "blend of mushrooms, pea protein and gelling agents able to take on the characteristics of sashimi or lox".[3] Back in the U.S., companies like Atlast Food are working on mushroom-based meat alternatives, like bacon,[4] and researchers at Penn State are moving to develop non-browning mushrooms by removing the offending enzyme from the DNA.[5]
But, there's something larger at play here — mycology to be exact — the science of fungi overall, and it includes (but is not limited to) mushrooms. Mycologists claim "the future is fungal…and will play a crucial role in our understanding of the environment via a range of new technologies".[6] We concur. There are multiple examples of the amazing work of mushrooms behind the scenes, let's take a look:
Functional Benefits. There are many. The medicinal mushroom market was last estimated at $18B globally[7] and started to take off in the U.S. following a 2010 Dr. Oz segment.[8] Throughout the last decade R&D suggests mushrooms demonstrate potential to provide a source of Vitamin D (when exposed to UV light during processing)[9], deliver antioxidants[10], control blood sugar[11], combat obesity (when used as a substitute for meat)[12], support heart health[[13], support brain health[14], and particularly relevant to 2020: boost energy[15], immunity[16] and treat mental health (via psychedelics and synthetic spin-offs).[17]
Formulation Enhancers. Fermented mushrooms are a marvel and being leveraged in the battle to maintain flavor while significantly reducing sugar, salt, and fat,[18] providing additional opportunities to reduce or eliminate gluten[19] and lastly and most surprisingly, to "block bitterness".[20] In fact, the ability to "deflavor and deodorize" is what sets them apart in product formulations, according to Pete Lubar, EVP of Business Development at MycoTechnology, an industry innovator.
Mushrooms are also capable of impacting viscosity and mouthfeel in beverages[21] and by-products are being investigated for their potential to "enhance the survival of probiotics during cold storage and improve probiotic tolerance in digestion".[22]
All in all, there is a wealth of opportunity to reimagine existing products. Based on the above riches, we recommend considering mushroom-based technologies in your Innovation Strategy. Two places to start? MycoTechnology, the aforementioned food technology startup with over $120M in venture capital, and Ecovative Design, a biotech company using mycelium — the root structure of mushrooms — to disrupt packaging.
---
[1] "A mushrooming industry", NutraIngredients, 8/16/06
[2] "In Pursuit of Immunity, Consumers Look to Medicinal Use of Mushrooms", The Hartman Group, 3/20
[3] "Legendary Vish Makes Realistic Salmon from Mushrooms & Pea Protein", TRENDHUNTER, 7/09/20
[4] "Why mushrooms are a miracle material – and might be your new favorite meat", Fast Company, 8/17/20
[5] "What's a GMO? Mushrooms, 'gene editing' and a brave new world for regulators?", NutraIngredients, 4/18/16
[6] "The future is fungal: why the megascience of mycology is on the rise", The Guardian, 8/23/20
[7] "New launches capitalize on popularity of medicinal mushrooms", NutraIngredients, 4/18/17
[8] "Om founder: It's a very great time for all mushroom companies", NutraIngredients, 1/16/19
[9] "PLT wins novel foods approval for mushroom-based Vitamin D", NutraIngredients, 9/04/20
[10] "Demand for mushrooms skyrockets as the West catches up on the rest of the world", NutraIngredients, 11/06/19
[11] "Mushroom extracts show blood sugar management potential: Study", NutraIngredients, 2/26/15
[12] "Mushrooms can replace beef to help in obesity struggle: study", NutraIngredients, 8/19/08
[13] "Study supports heart health benefits of mushroom powders", NutraIngredients, 5/10/17
[14] "Mushrooms for memory: Singapore study finds beneficial impact against cognitive decline", NutraIngredients, 3/18/19
[15] "Rare Chinese mushroom gives energy to the middle-aged", NutraIngredients, 4/20/04
[16] "Mushroom blend shows range of immune boosting effects in vitro", NutraIngredients, 3/16/20
[17] "Get Ready for Pharmaceutical-Grade Magic Mushroom Pills", Vice, 5/26/20
[18] "Tyson, Kellogg back mushroom-based ingredient startup", Food Business News, 6/12/20
[19] "Mushroom mycelium could breathe new life into declining cereals category, claims MycoTechnology", NutraIngredients, 6/03/15
[20] "MycoTech brings mushroom-based bitter blocker to Europe", NutraIngredients, 8/17/18
[21] "Medicinal mushrooms meet alcohol free beer", Food Navigator, 8/17/20
[22] "Prebiotic potential: Mushroom 'waste' could enhance probiotic survival", NutraIngredients, 8/02/13