The Reality of Virtual Trade Shows
The Reality of Virtual Trade Shows
March marks the beginning of a much anticipated–and somewhat derided–season in the food sales industry: trade shows. This month, we're busy finalizing booth graphics, email blasts, customer events and lead capture plans for many of our clients. Despite the nuances of each channel, there is one universal objective: maximize valuable face-time with current and potential customers.   
Which is why a February 2 headline in the IFDA daily e-newsletter caught my attention: "Jake's Finer Foods Has Partnered with vFairs to Deliver an Interactive, Virtual Food Show."
Many of you will remember virtual trade shows as a tech trend that began back in the 90's that never gained real traction. But recent advancements in tech, mobile and other devices made me wonder if virtual shows were worthy of a second look. I called in our digital mavens, Sandri Dekker and John Schneider, for their expert opinions.
WHY IT'S HAPPENING
Through conversations with media partners and many of you, we know that the travel and resources required to attend trade shows are increasing. For some customers, it has meant additional scrutiny about the ROI of attending. Which makes a virtual/digital trade show, in theory, attractive to many in the industry.
We contacted the team at VFairs to give us a behind-the-scenes look at Jake's Finer Foods showcase and understand what's happening in the virtual trade show space:
Much like an in-real-life (IRL) event, the show floor allows attendees to navigate a series of manufacturer booths.

Courtesy of VFairs https://www.vfairs.com/
Once inside the booth, customers can click on various tabs to learn more about products, download marketing materials, or even live-chat with a sales representative.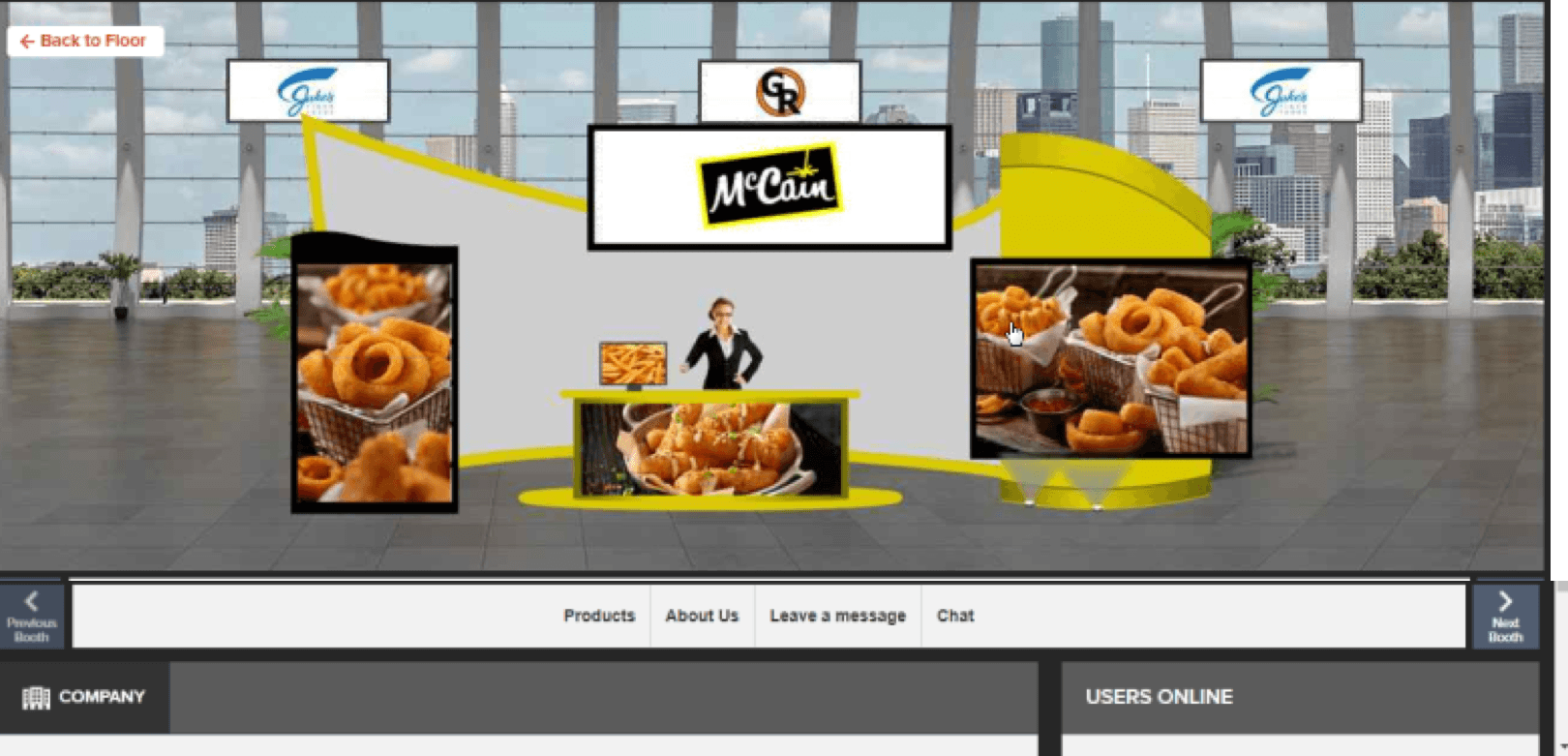 Courtesy of VFairs https://www.vfairs.com/
WHAT WE THINK

The current virtual trade show platforms fail to create an authentic supplier-customer interaction. Tech vendors are focusing too much on replicating a trade show floor, rather than optimizing the content with current technologies.

Trade shows are intended to bring our brands, products and company to life with customers in exciting ways. While the technology potential for virtual trade shows is enormous–video, live chat, interactive digital engagement and virtual reality–we're still waiting to see a company successfully execute a virtual solution.
WHAT'S NEXT
As an agency, we understand that virtualized sales events will become more prominent across the food-business landscape as resources are tightened and time becomes an even more valuable commodity. We also know that these events–regardless of technology savviness–are important to attend. Here are our top 3 ways to maximize your participation in an upcoming virtual event:
Be Strategic with Graphics
In a virtual environment, graphic space is small and limited. Opt for close-in product photography, your company logo, and short but informative copy.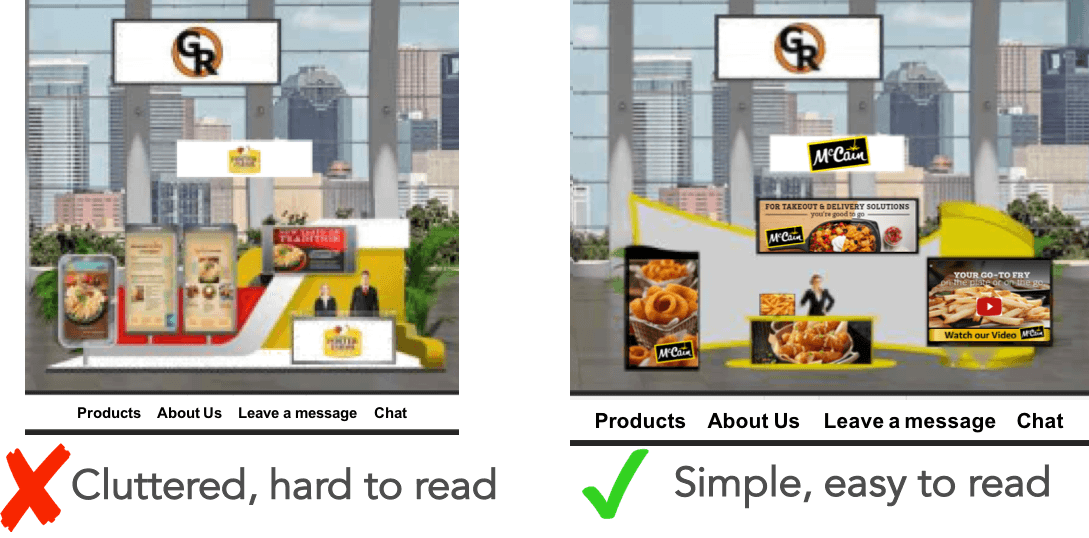 Talk Like a Human
We naturally type/write more formally than we talk. In a live-chat environment with customers, keep it conversational and don't be afraid to inject some personality.
Bring Content to Life
Your content strategy will be largely dictated by the technology offered within trade show hosting platform. Talk with the vendor to see if options like video are available to bring the content to life. 
Just some Thought for Food™