Your brand is your foundation
Your brand is your foundation
It was a curious scenario: the company had incorporated digital advertising into its marketing program, sales were up and the return on ad spend had increased. But brand affinity was in serious decline (brand affinity being a metric that lets market researchers make predictions about how a consumer will behave).1 In fact, a relevancy study showed their flagship brand was in the bottom third of 400 measured brands.
Speaking at the Association of National Advertisers' (ANA) 2017 Masters of Marketing Conference, Clorox CMO Eric Reynolds recalls finding himself in a situation many corporate marketing teams are currently facing. By focusing almost entirely on short-term objectives, Reynolds says their marketing and advertising became very rational and very functional.
"In a time when we have all this data and technology…why is our brand effectiveness failing? We would argue it's because we forgot about brands. Customers didn't fall in love with [our] brands."
It's an all-too-common story. In today's ROI-centric business environment, the value of brand building has been forgotten.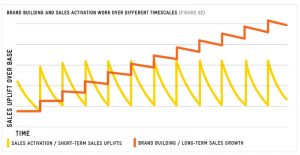 BUT WHY?
In the last few years, there has been a fairly significant change in effect from long-term to short-term brand activation.
Not long ago, long-term brand building accounted for 69% of brand relevancy. But according to recent studies from Les Binet and Peter Field, that impact has been reduced to 47%, as short-term activations have risen from a 31% to a 53% majority share.
And that's problematic. Because brand building does more than shore up brand awareness, brand preference and even, in some cases, increase sales. Brand building is critical because strong brands command a higher price and ultimately lead to long-term sales growth.
WHAT WE THINK

Brand building is the most important strategic marketing priority to ensure long-term profitability.

We understand that in today's business environment, demonstrating ROI on marketing and advertising investments is more important than ever. While brand building efforts may not necessarily increase revenue in the short-term, doing it effectively allows companies to charge higher prices over the long-term. And increasing profits, not just sales, is the ultimate return-on-investment.
WHAT'S NEXT
Standard ROI calculations are great for short-term marketing and advertising initiatives. But measuring and assessing the impact of long-term brand building means using an alternative guide to performance.
John Kearon, CEO of System1Group, recommends measuring a brand's 'share of voice' relative to its 'share of market.' He explains
"An established marketing principle dictates that a brand that spends above its size (and achieves excess share of voice – ESOV) can expect its market share to increase in that period. A brand that spends below its size (does not have share of voice sufficient for its size) will decline. Binet and Field indicate that, on average, across all campaigns, 0.5 percentage points of growth are achieved for ten percentage points of ESOV." 2
For example:
BRAND A has a share of market at 10% and share of voice is 20%
Excess Share of Voice is 10% ( 20 – 10) = 10
The 10% ESOV means it stands to grow by 0.5 percentage points over the period
This also means brands must prioritize resources to measure, test and evaluate effectiveness of brand building campaigns over the long term.