In a world dominated by visual storytelling, audio provides additional power to help brands break through the clutter. Despite being "screen-free," audio — in its many forms — has managed to demonstrate meaningful growth and participation from brands and consumers alike.
One measure of audio's growth is within the media landscape. While traditional AM/FM radio is still a viable part of the media mix, in the last 5+ years we've seen digital audio stealing share via listenership increases in streaming audio, podcasts, and satellite radio.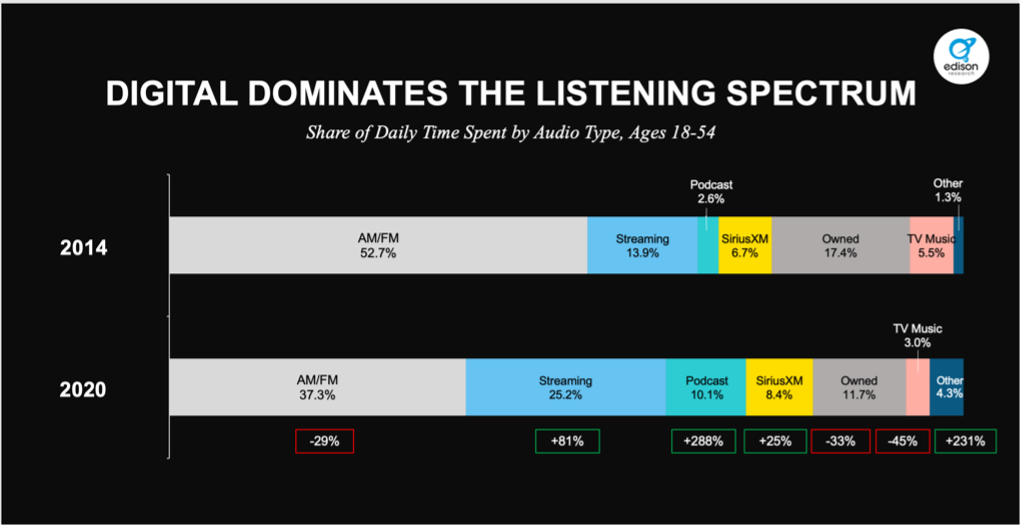 Within this digital listening space, there are two areas we'd like to highlight due to their growth and popularity:
Podcasts
Monthly listeners are predicted to increase +16% to 106.7 million.1
Podcast ad spending will rise to over $1B in 2021, driving a 27% share of digital radio ad spend in 2022.1
There were 1.7 million podcasts available last year, more than double the year before.2
Apple, home to the largest podcast directory, will now allow creators to monetize their content via paid subscriptions.3
Spotify has placed big bets on the medium as evidenced by exclusive hosting of the Michelle Obama Podcast, diversifying their podcast platform, and including ad-insert programs and in-app testing.4 And they should know. Spotify is where 25% of Podcast listeners report accessing podcasts5 and where podcast listenership has grown +250% year-over-year (YOY).6
Celebrities flocked to the medium during the pandemic, on a quest to stay busy, stimulated, in the public consciousness and employed. Estimates range from six-figure annual guarantees to between $1 million and $3 million dollar paydays, with productions ranging from unscripted "talk shows" to scripted, dramatic performances.7
Podcast consulting and coaching services, as well as university-led classes, have become a thing as only a fraction of new shows live beyond the 10th episode.8
Fans show their love through engagement — following podcasts on social media and driving sell out situations for live audience recordings and merchandise.9
Social Audio
Audio-only apps like Clubhouse are garnering millions of weekly listeners.10 The social networking app provides a host of virtual rooms for invite-only users to join and listen to speakers on a variety of topics. The average session lasts 90 minutes, and there are no cameras, no texting… only voice.11 It differs from podcasting in that it's live (not pre-recorded) and interactive, with listeners able to participate in the real-time conversation.12
Early adopter brands are getting creative. IHOP® created a sensory experience to promote their Steakhouse Premium Bacon launch, treating visitors to its official channel on Clubhouse with the sound of sizzling bacon… all day.13
Facebook and LinkedIn are adding Audio Rooms and Twitter is currently testing Voice Tweets — the opportunity to speak, rather than text, your conversation.
But there's more to this "New Age of Audio" than media. Here are other ways audio is being leveraged both inside and outside of our industry:
Sonic Logos
Think, the "dun-dun" of Netflix or the sound you hear when you rev up your Apple device. While the sonic logos themselves aren't new, the SoundOut Index has measured their effectiveness and ranked the top 100 for 2021. As you can see, multiple food, beverage, and restaurant brands made the list.14
Branded Text-to-Speech Voices
Branded voices that replace Alexa when using "skills." Imagine using Alexa to order KFC and having Colonel Sanders reply.15
Soundmojis
Short sound clips for Facebook Messenger, e.g., clapping, drumrolls, crickets or even audio clips from favorite celebrities, TV shows or movies.16
Product Experience Sounds
Thanks to a partnership with composer Hans Zimmer, BMW's electric car, i4, will use music — not just sound — to elevate the experience when doors open, the car starts, and as it drives.17
Audio Catalogs
IKEA has replaced its paper catalog with a nearly 4-hour "auditory tour."18
We recommend you consider the potential of audio branding and its ability to engage your target audience and stand out from the competition. Since many brands prefer to test the waters with a first foray into podcasting, we have some specific podcasting advice:
Hosting a Proprietary Podcast
Ensure your purpose is about more than testing the medium and giving the brand a new platform. Think deeply about what benefits you will provide to your listeners and let that drive your content.
Develop ample timelines that will simultaneously factor booking guests, conducting research and scripting.
Consider measurement. Use a platform with enough user analytics to inform decision-making, or consider embedding the podcast within your website for easy tracking.
Advertising in an Existing Podcast
Borrow tricks from successful podcasts to inspire your ad content, e.g., sharing "insider information", aligning with trends, and making it fun to listen to.
Leverage ads read by podcast hosts and replicate the vibe of the podcast in order to further connect with listeners.19
Consider offer codes to help measure response, as more sophisticated measurements for the medium are not yet in place.
[1] "US Digital Audio Ad Spending 2020", eMarketer, 9/20
[2] "The Big Number", WSJ, 2/21
[3] "How Apple's new audio subscriptions are upending podcasting", Fast Company, 5/15/21
[4] "Adweek Together: The Future of Audio", 7/20/20
[5] "US Digital Audio Ad Spending 2020", eMarketer, 9/20
[6] Spotify
[7] "We're Three Complete Idiots: Celebrities Flock to Podcasting for Fun and Profit", Vanity Fair, 2/04/21
[8] "Hosts are Tapping Pros to Polish Their Podcasts", WSJ, 2/23/21
[9] "From 'Throwing Fits' to 'Crime Junkie', Podcast Merch Has Become Big Business", WSJ, 1/04/21
[10] "The Era of Audio Creators Has Arrived", NYT, 3/04/21
[11] "What is Clubhouse & Why is it So Popular?", ScreenRant, 5/20/21
[12] "Social Audio: What It Means for Marketers and Business", Social Media Examiner, 2/23/21
[13] "IHOP serves sizzling bacon sounds on Clubhouse in new menu item's rollout", Marketing Dive, 4/13/21
[14] "These are the most popular sonic logos of 2021", Creative Bloq, 5/24/21
[15] "Amazon is helping brands build custom text-to-speech voices for their Alexa skills", The Verge, 2/04/20
[16] "Emojis finally have a voice: Introducing Soundmojis on Messenger", Facebook.com, 7/15/21
[17] "BMW's i4 Electric Concept Comes With a Hans Zimmer Score", Wired, 3/28/20
[18] "Now You Can Listen to the IKEA Catalog", Architectural Digest, 3/11/21
[19] "4 Things Marketers Should Keep in Mind About Podcast Advertising", Adweek, 9/28/20