Hard Kombucha: Another Bubbly Alternative
Hard Kombucha: Another Bubbly Alternative
Summer is upon us. In many places across the country, it's already proven to be a hotter-than-usual start to the season. Festivities are ramping up and people are taking advantage of get-togethers as we face more social opportunities – ball games, concerts, backyard grill-outs…all which just might include the presence of summery libations. In recent years, the rise of canned alcoholic beverage alternatives has been significant. Even though the category is just five years old, hard seltzers have already captured 10% of the total beer market and are projected to grow 50% in the next year1. Premixed cocktails (in a can) are also seeing significant gains, with the category forecasted to reach $3–$4 billion in revenue in the next few years. Let's explore the latest entrant: hard kombucha.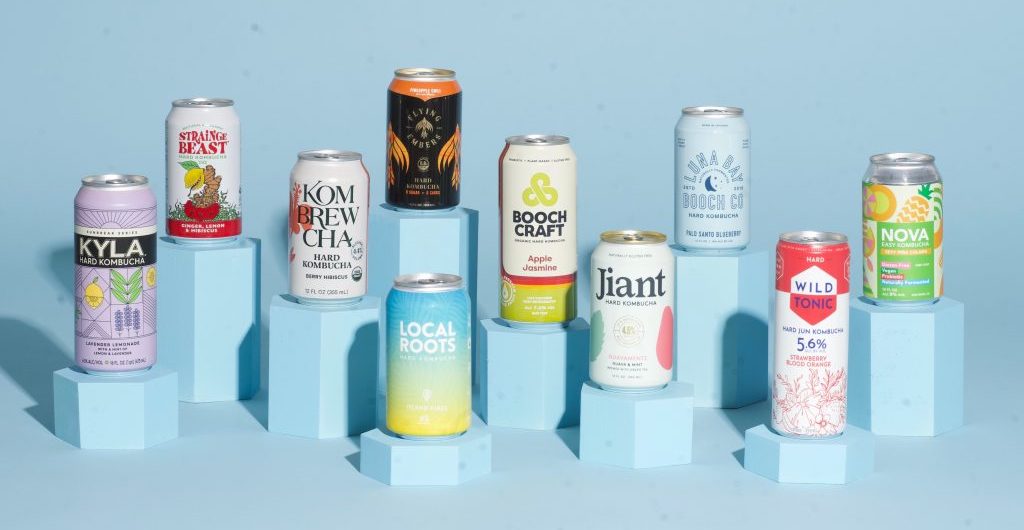 More Better-for-You?
Last month, we covered a bit on the topic of chocolate and made mention of the "indulge and fuel" value proposition it offers health-conscious consumers. Perhaps the term "detox to retox" is more appropriate here? Regardless, it is no surprise that we are seeing brands in the alcohol space answer the better-for-you demand when it comes to nutrition profile components like added sugars and calorie count, ingredients, and in some cases, alcohol by volume levels (many of these alternative products are lower ABV). We had the chance to talk with Margaret Link, Director of Marketing at Boochcraft in San Diego. She captured it well in noting that "hard kombucha is a compelling category because there is a focus on making incrementally better choices. We've seen over the past decade or so people making better snacking choices. We haven't seen the same scrutiny applied to alcohol until recently."
And, not all canned alcoholic beverage alternatives are created equal. While others – seltzers, canned cocktails – provide a product that is less indulgent, hard kombucha is unique in that it has the halo effect of the perceived functional benefits that are now recognized by health-conscious consumers: things like gut health (à la probiotics as it is fermented) and antioxidants. As Link notes, "seltzers are about what's not in it, and hard kombucha is about what the product retains". The whole process for hard kombucha is nearly the same, with the addition of a few more weeks of fermentation and varying amounts of added sugar and yeast.
Boochcraft Apple Jasmine on tap at Rayback Collective in Boulder, CO (left) and Orange Pomegranate at Goodonya in Encinitas, CA (right)
Who
Depending on where you are in the country while reading this, you may or may not have even heard of hard kombucha. Like most emerging trends, its momentum has been building mostly on the coast. The West Coast, to be specific. Two of the largest players are Boochcraft and JuneShine, both founded in Southern California, with tap rooms in the San Diego area. I spent the better part of this spring working from that area and became pretty familiar with both brands. (All for the blog. 😄)
Boochcraft emphasizes its real ingredients and transparency in its supply chain – they even have seasonal "heirloom" flavors. They continue to grow and are now in the top 50 of all craft breweries.2 I have found myself seeking out their product as I've made my way across the country over the past few months. I was able to hunt them down in both Austin, TX and Boulder, CO (where I am currently posted). They're currently in 13 states across the US yet retain the position of the #1 SKU nationally with their Grapefruit Hibiscus. So, it was exciting to chat with someone from their team this week to learn more "behind-the-scenes" intel on Boochcraft. A few highlights: the product is raw, made with real fruit, unpasteurized, with no added sugars or "fake stuff". Currently, they have about 70 employees and most are in production because Boochcraft is dedicated to retaining a process they believe in: fresh-pressed juice, live probioitics, and a sustainable supply chain. Perhaps best captured by Link, "we want to create something in which the choices that are best for you and best for the planet are also the best tasting".
JuneShine was the first to launch nationwide direct-to-consumer shipping earlier this year. The co-founders, Forrest Dein and Greg Serrao, identified the need to build the infrastructure to support a national DTC strategy after COVID hit – they knew that in the absence of sampling, getting the product into new consumers' homes was critical to their growth.3 Considering they have seen 81% of customers are more likely to make another purchase after ordering online, it is proving to be a smart move that will add to their already strong momentum.3
JuneShine patio and interior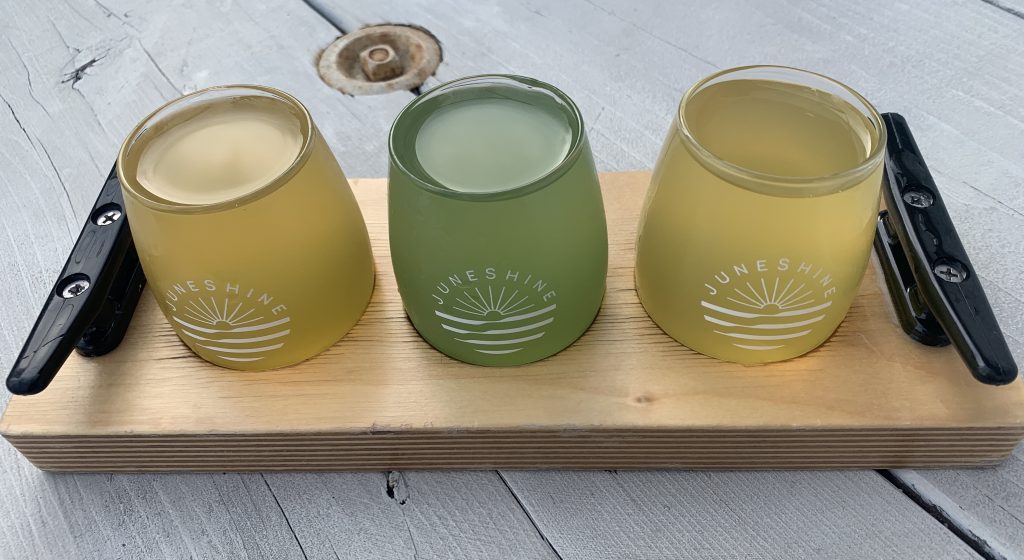 Final Verdict
I realize I'm right in the core target market for this product and I must admit, I'm a huge advocate these days. A milder flavor profile than "regular kombucha", it is light and refreshing and if you can find it on tap, it is even better "fresh". It might be in my head, but when enjoying my personal favorite, the 7.0% Orange Pomegranate by Boochcraft, I appreciate that there's a simultaneous detox/retox in the equation.
"Hard Seltzer Growth Will Continue: Rabobank." Beveragedaily.com, 25 Mar. 2021, https://www.beveragedaily.com/Article/2021/03/25/Hard-seltzer-growth-will-continue-Rabobank
"How Hard Kombucha Became The Drink Of 2020." Forbes, Forbes, 13 Aug. 2020, https://www.forbes.com/sites/bridgetshirvell/2020/08/13/how-hard-kombucha-became-the-drink-of-2020/
"This Boozy Kombucha Launched Nationwide Shipping—Just In Time For National Kombucha Day." Forbes, Forbes, 15 Jan. 2021, https://www.forbes.com/sites/jilliandara/2021/01/15/this-boozy-kombucha-launched-nationwide-shipping-just-in-time-for-national-kombucha-day/