With a reported 6 in 10 drinking it daily, coffee has been deemed "America's favorite beverage"[1], but we've found a lot of tinkering going on both inside and outside of the cup. Whether impacted by the pandemic, influenced by macro trends driving consumer behavior across all categories, or latching onto micro trends in the beverage category itself, coffee is evolving. Here are some examples beyond nitro and cold-brewed:
At Home. Lockdowns, distance learning, WFH, as well as limited café seating have shifted coffee consumption to the home, but analysts are divided on its long-term outlook. While the pendulum currently hovers in the at-home consumption camp, retail brands are targeting the amateur barista with DIY recipes, as well as improving their digital experience to better facilitate takeout and delivery.[2] In addition, we see momentum with instant coffee, where global sales are projected to grow +2.5%[3], buoyed by the Dalgona craze and prompting Starbucks and Nestle to team up on a premium Medium and Dark Roast version for sale overseas.[4]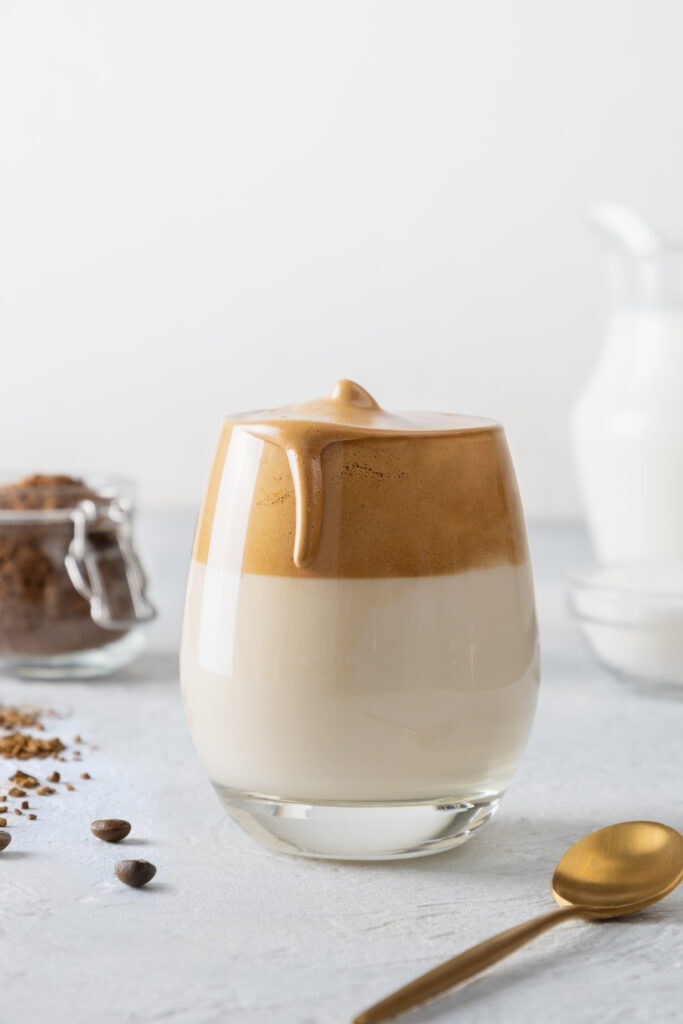 Craft Brewed. Consumer desire for personalization, heightened experiences and authenticity contribute to the +143% growth predicted between 2018 and 2025 in this "next boom industry".[5] Look for more emphasis on origin stories and the elevation of coffee "as an art form"[6], taking a cue from the craft cocktail movement.
Edible. While coffee-infused foods are nothing new, coffee as a food is. We see fine-ground coffee beans being combined with cocoa butter and new techniques to produce bars like Dunkin' Donuts Coffee Thins and Nudge Butters.[7]
Hybrids. The last 12 months have delivered a rash of coffee-blended beverages. In fact, "coffee is being integrated into everything from sparkling beverages to energy drinks to juices".[8] Both Pepsi[9] and Coca-Cola[10] have debuted coffee-flavored colas either domestically or internationally, hard coffees have been rolled out by beer brands,[11] "coffee juices – iced fruit drinks topped with cold coffee" are brewing on the East Coast,[12] and Ocean Spray has created a non-alcoholic shandy pairing Cranberry Lemonade with Cold Brew Coffee.[13]
Functional. Nearly 7 in 10 U.S. adults are interested in wellness benefits via beverages, with 4 in 10 interested in enhancing sports & fitness performance.[14] WORKOUT coffee intends to deliver, armed with a patented black tea extract and clinical research to support pre-workout and sports recovery claims.[15]
Sustainable. In response to global coffee bean crops negatively impacted by climate change, coffee rust and limited arable land, two entrants are raising eyebrows. Atomo Coffee, a startup with over $10M in VC funding that has developed an alternative coffee to mimic the beverage without the bean[16], and Jolt – a shelf-stable, coffee concentrate whose small, liquid volume reduces the burden on shipping and therefore, carbon footprint.[17]
Despite all of this innovation, we feel compelled as coffee lovers to recommend a few ideas of our own. First, attempt to relieve stay-at-home-fatigue. Consider sending consumers on a trip around the world via LTO specialty drinks inspired by the flavors of the globe. Enhance the sensorial experience, experimenting with garnishes or textures. Enable mental and physical self-care pushing both flavor and health. Try swapping tap water with flavored, infused or functional waters like coconut, rose, birch, water kefir or chlorophyll water. And finally, be holistic in sustainable offerings, considering not just origin stories and footprint, but packaging as well.
---
[1] "Need for comfort, energy will carry coffee through coronavirus, pave path for post-pandemic growth", Food Navigator, 4/03/20
[2] "Coffee Brands Are Adapting as Consumers Opt to Brew at Home", Adweek, 7/27/20
[3] "Global Drinks Trends After Coronavirus", Euromonitor, 7/20
[4] "Starbucks launches premium instant coffee with Nestle", Food Navigator, 2/25/20
[5] "Craft Coffee: The Next Boom Industry?", The Hartman Group, 1/20
[6] "New Wave Coffee", JWT, 1/24/19
[7] "Bored of chocolate? Eat coffee instead, says The Whole Coffee Co: We're creating a completely new food category", Food Navigator, 1/06/20
[8] "Coffee evolution driving beverage category growth", Food Business News, 12/26/19
[9] "Pepsi Café, a cola-coffee blend, comes to stores next year", FoodDive, 12/13/19
[10] "Coca-Cola to debut coffee-flavored cola in the U.S.", FoodDive, 7/31/20
[11] "Hard coffee, hard kombucha – experts say no beverage is safe from alcohol", The Washington Post, 2/03/20
[12] "No more OJ on the side: Coffee and fruit juice share the cup in a refreshing twist", Restaurant Hospitality, 8/21/20
[13] "NPD Spotlight: New product launches in RTD tea and coffee", 7/17/20
[14] "Wellness in a bottle: Delivering consumer-preferred beverages", Givaudan, 2020
[15] "How coffee can fuel your workout", NutraIngredients, 7/27/20
[16] "Atomo Coffee gets $9M for a molecular morning jolt", FoodDive, 8/11/20
[17] "Miss your fancy coffee shop habit? Silicon Valley has the answer – in one tablespoon", Fast Company, 4/23/20