How to Set a Hard-Working Table
How to Set a Hard-Working Table
When it comes to mealtime, we tend to spend our energy thinking about what to serve, not how to serve it. There are recipes, ingredients and pairings to consider — and for the highly-engaged — how to plate it. These are the elements we sort out before the food even hits the table. But outside of hosting, how much thought do we put into the tableware? In the last decade, there have been several innovations designed to heighten the eating experience. Here's a look at how they accomplish it:
Flavor Enhancers
SpoonTEK. A spoon that sends a mild electric current through your food and to your taste buds, to heighten flavor and neutralize after-taste.1
Sensorial Stimuli Collection. A set of unconventional spoons with different shapes and embedded textures that manipulate the senses to improve taste.2
The Goûte Spoon. A honey-dripper shaped spoon that simulates the experience of licking your fingers, with research to suggest it successfully improves taste.3
The AVENSI Cup. A cup touted as the "wine glass equivalent" for coffee, that traps coffee aromas, reduces temperature, and encourages swirling to bring out the flavor.4
Orange or Cream–Colored Mugs. Colors scientifically proven to affect the perceived flavor of beverages.5
Sonic Seasonings. A grad student designed plate and cutlery set with built-in sensors that help to produce sounds to accompany each bite. The sounds are thought to improve the perception of flavors, as well as make the meal more fun.6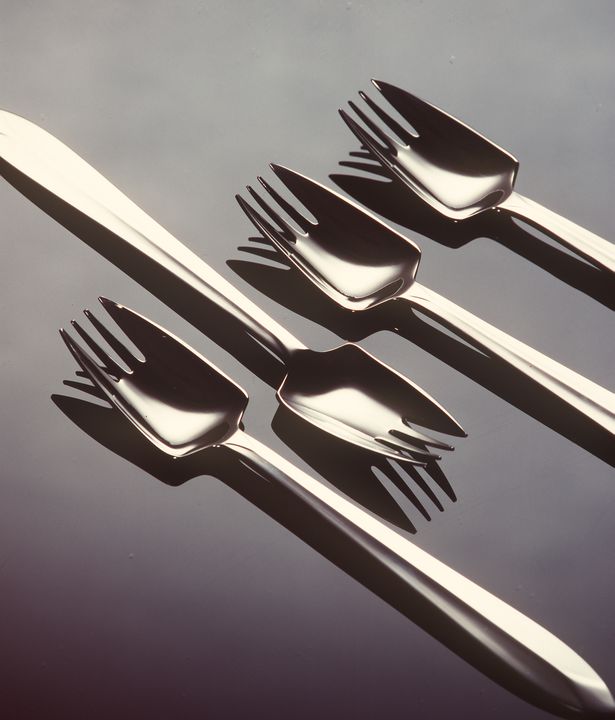 Multi-Tasking Problem Solvers
The Knork. A knife-and-fork combo inspired by a rocking pizza slicer, that uses a beveled edge tine to make cutting with your fork easier.7
Splayd. A spoon-knife-and fork combo, that simplifies table-setting (and camping).8
Trongs. A special utensil, clipped to your fingers, that helps you eat ribs and chicken wings with less mess.9
The Chork. A fork and chopstick combo, for when you need to switch, mid-meal.10
Bakeys Edible Utensils. Spoons and forks made from sorghum, rice and wheat flours, with savory, sweet and plain flavors, to reduce waste.11
Cup Noodle LTO Forks. Expertly designed forks, optimized to hook and scoop noodles and catch soup toppings from noodle cups.12
Health Aids
The Right Cup. A cup embedded with "FDA approved aromatic fruit flavors", that uses aroma to encourage you to drink more water.13
Salt Reduction Chopsticks. A joint development between Meiji University and Kirin, a Japanese food and beverage company, that uses electrical charges to enhance the perception of saltiness on the tongue, improving the experience of low-sodium food.14 A similar design here in the U.S. involves a spoon.15
Eatwell Tableware. A set of plates, bowls, cups and utensils designed for Alzheimer's sufferers, that help reduce confusion and frustration at mealtime.16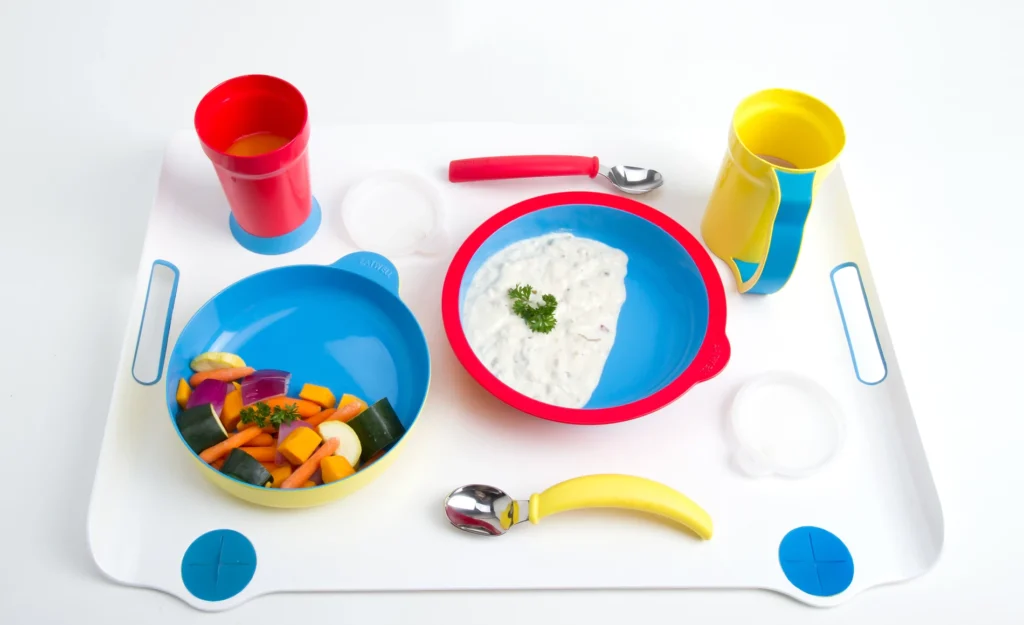 In summary, we see tableware as a white space. Another opportunity to think holistically about the eating experience. The examples above can even provide inspiration for food and beverage product development. We encourage you to consider partnering on utensils and vessels that can be packaged along with your product to provide additional benefits.
[1] Spoontek.com
[2] "Crazy Eating Utensils, Designed To Stimulate All The Senses", Fast Company, 2/05/13
[3] "The Finger Spoon that makes food taste better", Creativepool, 8/02/17
[4] "The AVENSI Cup Is Scientifically Engineered To Make Your Coffee Taste Better", Yanko Design, 8/06/19
[5] "How your cup's color changes the taste of your drink", The Week, 1/08/15
[6] "This ASMR tableware will make you go 'mmmmmbbbvvvvrrrrrshhhhh'", Fast Company, 6/23/21
[7] "Utensil Fandom", Tedium, 3/30/22
[8] "10 Weird Eating Utensils You Probably Never Used", HubPages, 1/05/17
[9] "From Forks to Sporks: 4 Unusual Cutlery that You Never Knew Existed", Slurrp, 1/19/22
[10] "13 Weird Eating Utensils, from Sporks to Trongs", Bon Appetit, 4/26/13
[11] "The Fork Not Taken – Eating Utensils from Around the World", Edible Indy, 5/09/19
[12] "Nissin is releasing an obsessively designed fork specifically for Cup Noodle", Spoon-Tomago.com, 10/17/19
[13] "These Cups Use Smell to Trick You into Drinking More Water", The Science Explorer, 2/19/16
[14] "Electrified cutlery could help salt reduction efforts", Food Navigator, 7/07/22
[15] "Five Inventions to Help Us Live Better, Longer", WSJ, 1/06/22
[16] "Tableware designed for Alzheimer's patients", 9/07/15, CNN