How to Win With Grocery Retail Giants
How to Win With Grocery Retail Giants
Within the National Retail Federation's most recent Top 100 Retailers list, four titans — Walmart, Amazon.com, The Kroger Co. and Costco — all fall within the Top 5.1 These same four brands also make the Top 5 retailers in Kantar's annual 2021 PoweRanking2. Three of the four (Amazon, Walmart and Kroger) are amongst the Top 10 Global Ecommerce Edible Grocery Retailers3, and three (Amazon, Walmart, and Costco) have banners within the Top 10 scorers on the Dunnhumby Retailer Preference Index.4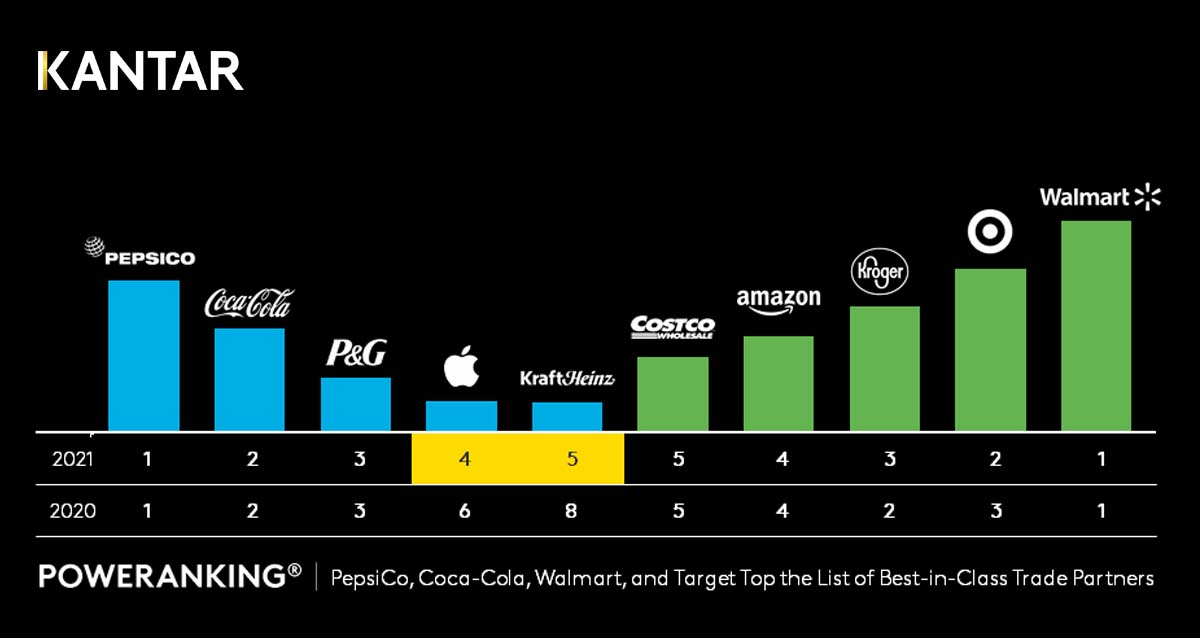 The sheer power and might of this Fab Four can be daunting to manufacturers of any size. If you're trying to get your first meeting, we have some observations we think you'll appreciate. Based on the priorities common amongst this set, we recommend you focus on the following:
Omnichannel Investment
While momentum for meeting shoppers where they are has been growing with retailers for more than a decade, the pandemic only served to accelerate it. Their focus on creating seamless experiences for their customers means they'll be looking to you for sizable investments in both brick and mortar, as well as e-commerce. In addition to potential slotting fees and other promotional dollars, you will be expected to spend on .com advertising and search. At present, Kroger's retail media business, KPM, is said to be making it easier to do more, via indirect access to transaction data that allows you to target shoppers through multiple touchpoints including search, display, social, offsite advertising, email and push notifications, streaming television and more.5
OTIF (On Time In Full)
Based on the doubling-down in automation, localization, digital, curbside pickup and expedited delivery, there is greater pressure on inventory in order to ensure speed and convenience for the consumer. To stay in good graces, you will need to ensure you have volume at the right place and time. This can become even more complex depending on the retailer. Take Walmart, for example, where we're told you must be 98% OTIF compliant or be charged for insufficiencies. To further complicate matters, Walmart.com maintains 4,700 different "sites", serving each store in the network, and brands are expected to monitor, manage and market listings, in-stocks, prices, advertising and content on a store-by-store basis.6 Equally intimidating, is the prospect of using Amazon's warehouses, where rates for sellers are said to be fair to ship, but not to store.7
Simplifying Self-Checkout
Last year, Walmart announced their intention to be fully self-checkout and/or "Scan & Go"8 and Kroger debuted a smart cart with scan-as-you-go technology.9 This year, Amazon introduced "Just Walk Out" cashierless locations,10 and Kroger rolled out self-checkout lanes with conveyor belts, rather than the tiny surfaces at traditional kiosks.11 Only Costco appears behind the times in this area, with few self-scanning options, a potential result of inventory loss (re: theft).12 The proliferation of self-checkout technology amongst at least the Big 3 means that you may one day be faced with new barcoding requirements. At present, it's already happening at Sam's Club, where barcodes must appear on more than one side of your outer packaging.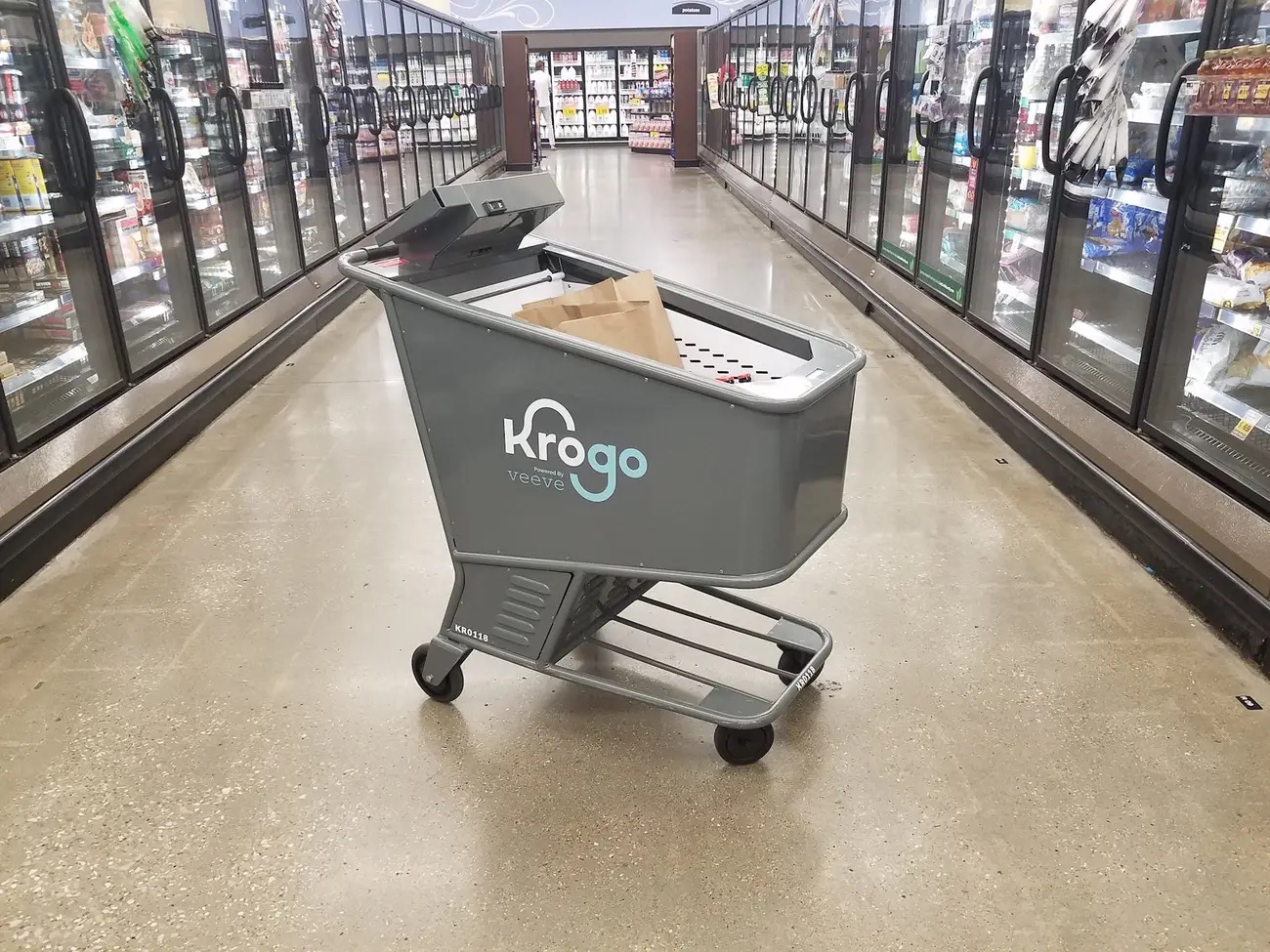 Sustainability
Large retailers recognize that the waste they generate is significant, and it pushes them to push you for continuous improvements. This could mean anything from reducing greenhouse gas emissions13 to earth-friendly product claims to food waste to more sustainable packaging.14 Be prepared to be chipping away at this one for years to come.
So, what have we learned?
According to major manufacturers, to be successful in top retailer meetings — particularly at Walmart — "You must understand your retail buyer's go-to-market strategy and be aligned." However, knowing the above common priorities is only the first step. In addition, "You must identify your customer's needs, link your solution to those it is best for, support it with data and be highly transparent about your forecasts, lead times, and capabilities for capacity and distribution."
To that, we add the following suggestions:
At Walmart, help them overcome poor consumer perceptions relative to innovation.15 Perhaps that's why, if you don't already have an in, only a really trendy item may help you get the meeting.
At Amazon, share your brick and mortar successes, since they continue to launch physical locations, but haven't fully cracked the nut and may appreciate the insight.
At Kroger, prepare a great story on how you can help to advance "fresh", one of their key growth engines.16
At Costco, consider emphasizing aspects of your product that benefit employees, famously considered their greatest asset.17 Are there packaging ergonomics or efficiencies that could make their lives better, etc.?
In the end, it's a lot like advertising, where your storytelling needs to be as much about them as it is about you. Oh, and by the way, we're here to help.
[1] "Top 100 Retailers 2021 List", NRF
[2] "PoweRanking® 2021: A Generation of Transformation", Kantar.com
[3] "Amazon to nearly double online edible grocery sales by 2026", Supermarket News, 7/15/21
[4] "Digital Strategies Key Factors in Winning Customers", Food Institute, 1/11/22
[5] "How Kroger Precision Marketing Continues to Disrupt Media Advertising", Progressive Grocer, 3/29/22
[6] "Ecommerce Success on Walmart.com: The Brand's Essential Guide, Field Agent, 4/21/22
[7] "Prime Power: How Amazon Squeezes the Businesses Behind Its Store", NYT, 12/20/19
[8] "Walmart Is Looking To Remove All Cashiers From Stores, Going Fully Self Checkout", Positively Osceola, 6/22/21
[9] "I tried shopping with AI shopping carts at Kroger with the CEO of Veeve", Insider, 12/21/21
[10] "Amazon physical stores notch another double-digit sales gain in Q1", Supermarket News, 4/29/22
[11] "Coming to (dozens of) Kroger stores near you: bigger, belted self-checkout lanes", The Cincinnati Enquirer, 4/24/22
[12] "Why Most Costco Locations Don't Have Self-Checkout Stations, According to Reddit", Mashed, 2/14/22
[13] "Why Walmart's quest to be a regenerative farming pioneer is falling short", Fortune, 4/04/22
[14] "Walmart's Online Tool Helps Companies Find Sustainable Packaging", Progressive Grocer, 4/12/22
[15] "Walmart to Amazon: Understanding different shopper profiles", proquo, 2021.
[16] "Kroger Outlines Strategy to Deliver Strong and Sustainable Total Shareholder Return by Leading With Fresh and Accelerating With Digital", Kroger.com, 3/31/21
[17] "Retailer Deep Dive: Costco Wholesale", Progressive Grocer, 11/01/21