The Customer Insight Behind Lidl's Success
The Customer Insight Behind Lidl's Success
German grocery-discount chain, Lidl, recently announced the locations of its 20 six-aisle small-format stores opening this summer. But what struck me most was Lidl's U.S. CEO's comment on the new stores: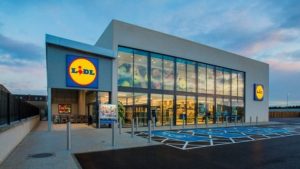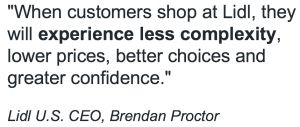 Lidl's new U.S. small-format store
Less complexity. Meaning, fewer choices. At first this sounds counterintuitive to what we know about customers demanding choice and customization at every turn. But choice requires decisions, and that activity is increasingly causing anxiety.
Why It's Happening
In her 2017 Iconosphere address, Kathleen Vohs, Distinguished McKnight University Professor at the University of Minnesota, argued that people today are increasingly choice-fatigued. In fact, she revealed the average person makes 225 food decisions per day.
Similarly, Gartner (formerly CEB) found in their 2016 research that 20% of U.S. consumers experience anxiety in everyday decisions, with younger generations reporting even higher levels.
What We Think

Curating customer decision-making must be a pillar of today's customer-service framework.

Rather than simply providing choice, we should strive to curate relevant solutions. That means understanding our customers' needs, and their customers' values, on a deeper level. Executed properly, brands have the opportunity to differentiate themselves as a true business consultant.
What's Next
In theory, it's simple: make it easier for customers to buy your products.
SKU rationalization: Eliminate underutilized items or expand offerings based on customer needs.
Optimize the decision-making process: Make it efficient to find – or proactively provide – only the most relevant product/brand information for your customers.
Understand strategic sacrifice: All choices require sacrifice. Understand the 'must have' and 'nice to have' criteria of your target customer to make more meaningful recommendations.
Because sometimes, less really is more.
Just some Thought for Food™