Winning With Big Food: Part 1
Winning With Big Food: Part 1
'How can 'Big Food' win?' was a question on everyone's mind at this year's Iconosphere conference in Las Vegas. As one of the industry's leading consumer insights conferences, hosted by Gartner (formerly CEB), food & beverage strategists reiterated arguably the biggest challenge 'Big Food' faces in today's marketplace: small and medium manufacturers are driving half the growth in the CPG channel.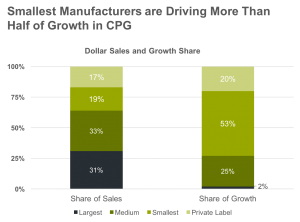 2017 The Nielsen Company (US), LLC
Even though this data only represents retail data, we can't ignore that changing customer demands in one channel aren't influencing product decisions across foodservice, or even food at retail.
WHY IT'S HAPPENING
Most analysts agree small and medium brands' ability to respond to rapidly shifting trends, their focus on 'clean' ingredients, and increased availability have largely contributed to their success.  
These explanations highlight a common theme: 'Small Food' is perceived, by customers, to be better than 'Big Food.' Whether it's the impression they use better ingredients, follow a better process, or create better-for-you products, 'Small Food' is increasingly perceived as a better choice.
WHAT WE THINK

'Big Food' needs to tell its story.

Brands and manufacturers of all sizes are necessary and vital players in today's dynamic food system. 'Big Food' plays a significant role in bringing food to our kitchen tables, favorite dining spots and emerging spaces where millions seek sustenance on a daily basis. This isn't a David vs. Goliath narrative; it's about reminding customers the importance each party plays.
WHAT'S NEXT
Customers want to feel good about their food and beverage purchases, and 'Big Food' has a great story to tell, particularly in three key areas:  
Consistent supply. We've been with many of our customers since their beginning. We're on the shelf, in the case, and in the kitchen when and where we're needed without fail.
Record of safety.

Our size gives us the ability to ensure the safest possible food with investments in the latest technology and equipment available.

Higher standards. Volume speaks loudly. We can dictate which farmers/co-ops we work with, demand more responsible care of our crops and animals, and ensure we get first choice on ingredients which, ultimately, means higher quality for our customers.
Look for Winning with Big Food: Part 2 next month!