One of the latest trends in the bar scene may influence your next summer cocktail or craft beer selection – whether on a patio or in your own backyard. The "Low ABV" category is growing on all fronts, from bartenders experimenting with new recipes, to producers creating near-beers and faux spirits that provide flavor and fun.
BUT, WHY?
You might be wondering… "but why? isn't that missing the point?" As Millennials and Boomers are trying to stay fit, a recent study by International Wines and Spirits Record found that "52% of US adults who drink alcohol are either trying now or have tried before to reduce their alcohol intake"[1]. This is right in line with the emergence of "Dry January" – the 31-day alcohol-free challenge that has become a tradition for many following the holidays. Indicative of an overall search for moderation with alcohol, restaurants and retail brands have taken note.
WHAT'S HAPPENING
In NYC, the bar scene is rising to the challenge with trendy sober bars, mocktail menus and booze-free pop-up parties. These spaces are set up to look and feel like any other hip bar in the area, offering patrons an "alternative" night out. Most claim not to be a strictly sober space but rather one that promotes being social: talks, meet-ups, music, workshops, and my personal favorite: Juicebox Heroes, a karaoke lounge split into sober and non-sober sections. I have to imagine the experience is rather different from one side to the other!
On a broader scale, bars are putting more effort into their Low ABV program, and many times calling it out as a specific section on the menu. Generally defined as containing less than 1 ounce of high proof spirit, they are often only slightly less expensive as they tout similar high quality and unique ingredients as their alcoholic counterparts.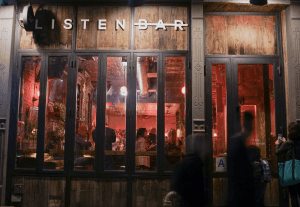 SO, WHAT NEXT?

Consumers will continue to look for what benefits their beverage choices can provide for them, by way of both wellness and experience. With the low- and no-alcohol beverage category projected to grow roughly 32% by 2022, it's likely that creativity will continue to be key in shaping this trend – with the addition of items like "CBD-infused lattes" and "mushroom-elixirs", the bar scene and how we consume mood-altering beverages is going to look very different even a few years from now.[2]
[1]"Low- And No-Alcohol Beverages Are a Growing Trend Worldwide." Forbes. Pellechia, Thomas. February 20, 2019.
[2]"Sober-ish Summer?" Vanity Fair. Bryant, Kenzie. May 24, 2019.