Start Caring About Sharing
Start Caring About Sharing
"Do we need to be on Instagram?"
It's a snowy afternoon in mid-January and I'm sitting with our integrated planning team talking about the most frequently asked questions from clients. From understanding what to expect in audience engagement, platform usage and content demands, the team agreed social media warranted a deeper dive for our foodservice clients.
So last month, we partnered with Datassential for a proprietary research study with over 400 operators across all segments asking about a variety of topics including social media, advertising content and trade shows. For this month's Thought for Food, we're giving our readers an in-depth analysis into operators and social media usage, as well as considerations for your 2019 marketing plans.
WHAT'S HAPPENING
Our decision to invest in operator research began while reviewing Datassential's 2017 Media Engagement study, which showed the most popular types of media used by foodservice operators to get information for their business. The data didn't just confirm our team's intuition on operator social media use, it showed adoption of these tools was deeper than conventional wisdom would indicate. That intel provided us a point of focus.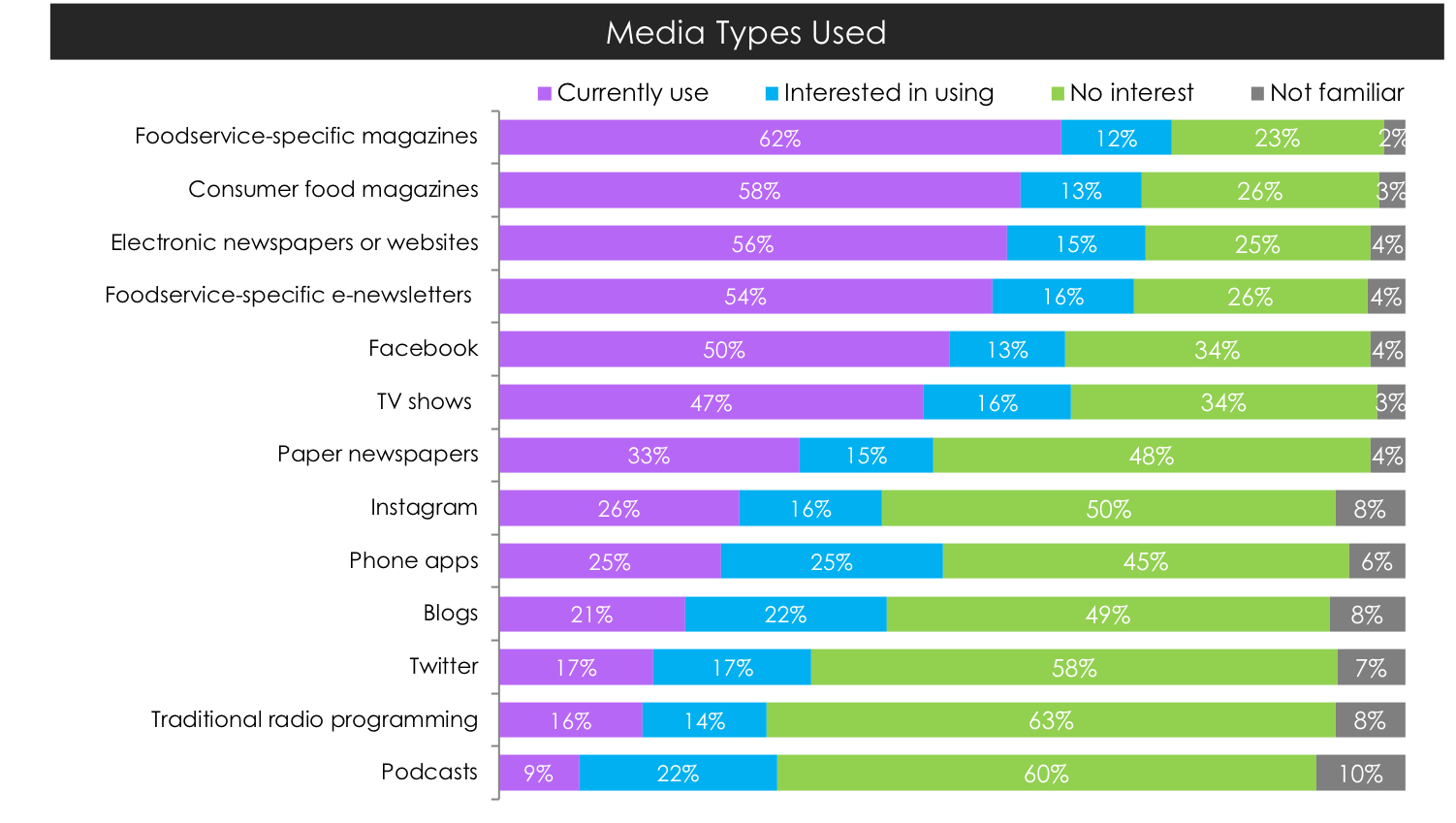 Source:"Pulse Topical Report: Media Engagement Chapter." Datassential. December 2017.
Knowing that many of our clients are weighing the investment in social media, we felt it was important to dig deeper and understand:
What percentage of operators are actually following foodservice and/or beverage suppliers?

Which platforms do they prefer/use most often?
In our follow-up Omnibus study with Datassential, we found that 52% of all foodservice operators follow foodservice and/or beverage suppliers on social media, with Facebook, Instagram and Twitter being the most used platforms.
WHAT WE THINK

Social media must become part of our operator engagement strategies moving forward.

As the foodservice decision-maker demographic shifts to include more Millennials–the most active generation on social media overall–manufacturers will need to be active on these platforms to reach this group. Many B2B industries are already involved in social selling–the use of social media by sales professionals to interact with and sell to prospects, by offering content and answering questions until they are ready to buy–and foodservice is not far behind.
WHATS NEXT
Not all platforms, segments or content types are created equal when it comes to social media. Because engagement requires a long-term resource investment, here are three questions to answer when developing a social strategy:
Who should we target?
Certain segments are more active than others on social media and gravitate towards different platforms. Commercial and C&U operators are most likely to be engaged, while Healthcare and K-12 decision makers are least likely to be active.

Source: "JT Mega Operator Omnibus." JT Mega and Datassential. February 2018.
What is the most popular platform?
Facebook is the most popular–likely due to its longevity in the marketplace. But that doesn't mean it should be your go-to platform when investing in a social strategy. Your content plan, marketing objectives, target audience and budget will largely dictate which social platform makes the most sense for your brand.

Source: "JT Mega Operator Omnibus." JT Mega and Datassential. February 2018.
What type of content is most valuable?
Food and consumer trends, new product updates and company news were frequently sought after by all operators, while white papers, contests and success stories scored low across all audiences.  

Source: "JT Mega Operator Omnibus." JT Mega and Datassential. February 2018.
Final Thoughts
Investing in a social strategy is a long-term commitment. It requires consistency to build brand awareness and brand loyalty over time. Social can be a very powerful tool for your brand, but it needs resource prioritization.
Look for more social media insights in our upcoming "Marketing to the Modern Foodservice Operator: Social Media " e-book scheduled for release later this month.