According to a recent study, over one-half of U.S. adults snack 2–3x per day and two-thirds are using them to replace meals. While snacking is overwhelmingly driven by cravings or hunger, it also satisfies emotional needs for indulgence, rest, rejuvenation and reward.[1]
Motivations to Snack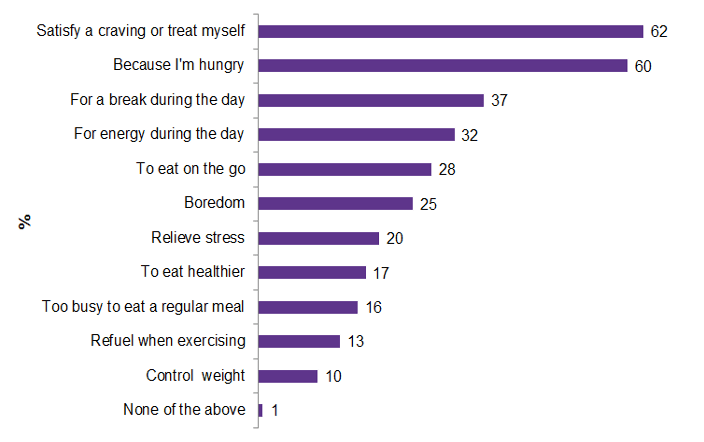 Considering snacking's ability to provide balance (by contributing to both physical and emotional wellness), it's no surprise that nearly 5 in 10 U.S. consumers deem them "an important part of healthful eating."[2]
And now for the burning questions…
Who are these snackers? Primarily, Millennials – the cohort with the highest penetration of "Super Snackers" and self-reported snacking growth vs. the year prior:[3]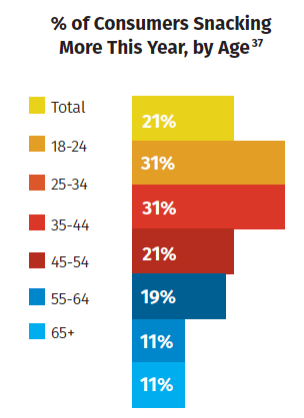 Millennials are also significant for having "redefined snacks from both an occasion and food perspective" with a penchant for grazing throughout the day, an emphasis on healthier fare and an attraction to innovation in the category[4] – especially via "new and foreign flavors and formats."[5]
Where are the pockets of growth? In pre-pandemic 2019 it was Wellness (+28% dollar growth), Indulgence (+27%), and e-Commerce snack sales (+46%).[6] During COVID-19, it's Salty Snacks, the "No. 1 food item that's contributed to sales growth at retailers since early March,"[7] knocking performance, health and nutrition bars off their pedestal.[8]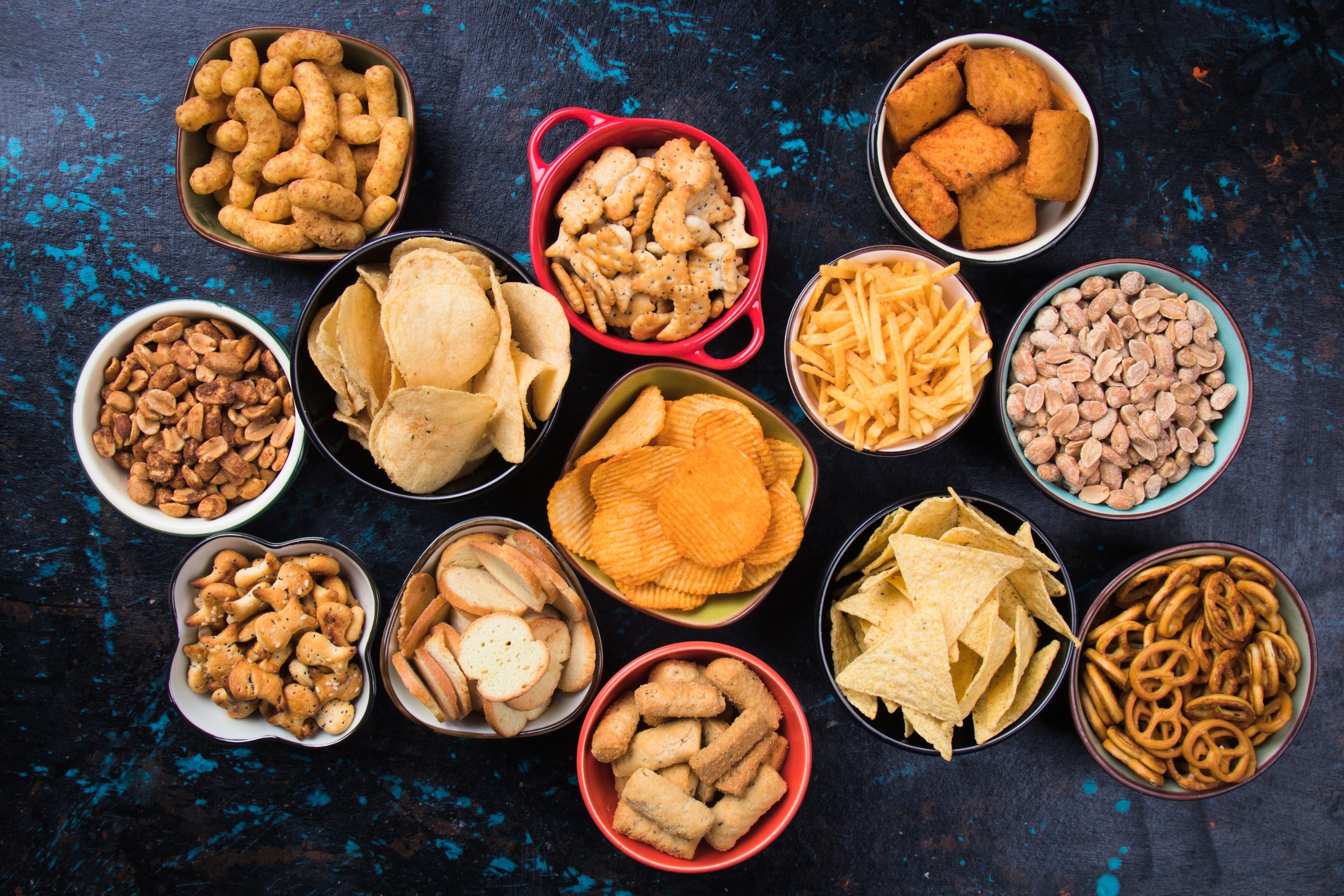 What are emerging opportunities and pain points? We're most intrigued by four:
Trial. Snack subscription boxes are being touted as "a new frontier in the snacking world", and online search for 'snack subscription' has increased +85%.[9]
Enabling Online Impulse. According to new research, the most popular impulse purchases in online grocery are snack foods and ice cream or frozen treats, yet retailers struggle with how to facilitate impulse through the e-Commerce channel.[10]
Beverages as snacks. Some 4 in 10 consumers (and 5 in 10 Millennials) "often use beverages as a snack, instead of food."[11]
Foodservice. The majority of consumers are purchasing snacks most often at convenient retail locations like mass merchandisers or supermarkets,[12] but while 5 in 10 claim it isn't hard to find snacks at restaurants, only 2 in 10 are purchasing them there.[13] Furthermore, pandemic-era "snack delivery" searches have increased by +83%,[14] implying a significant gap between emerging demand and current offerings.
Since taste, price and broad appeal to the family are the three critical factors in snack choice, we recommend focusing on free and paid sample sizes in order to drive trial. For manufacturers, this could look like subscription boxes, but also working with retailers to leverage existing bells and whistles on websites (e.g. 'buy again' functionality), providing LTO 'bag stuffers' at checkout, or creating 'FREE. Take One.' sites within the store. For foodservice, this would require killer snack menus…but also snack-related search engine optimization and delivery. Lastly, we recommend a media presence related to in-home viewing – whether traditional channels, streaming services or YouTube – as nearly 7 in 10 snacking occasions at home involve watching TV.[15]
[1] "Snacking Motivations and Attitudes", Mintel, 1/19
[2] "Snacking", Datassentials, 11/19
[3] "Snackification Takes Hold", Kerry, 2019
[4] "NPD Group's Darren Seifer: Is Gen X the Future of Snacking?", NPD, 6/11/20
[5] "Millennials are ditching three square meals to graze throughout the day", Food Navigator, 11/11/19
[6] "What will be the new norm? Looking at snacking universe beyond coronavirus", Bakery And Snacks, 5/04/20
[7] "Snacks Shift Toward the New Normal", Progressive Grocer, 5/19/20
[8] "Consumers are stocking up on snacks during the pandemic", Grocery Dive, 7/07/20
[9] "Gauging the online snacking search trends during coronavirus", Bakery and Snack, 5/15/20
[10] "Impulse buys get a boost online", Grocery Dive, 7/06/20
[11] "Consumers Look for Functional Benefits in Beverages, The Hartman Group, 2019
[12] "Snacking Motivations and Attitudes", Mintel, 1/19
[13] "Snacking", Datassentials, 11/19
[14] "Gauging the online snacking search trends during coronavirus", Bakery and Snacks, 5/15/20
[15] "Eating Occasions", The Hartman Group, 2019