Unlocking An Unmet Need In Breakfast
Unlocking An Unmet Need In Breakfast
"Breaking the fast" each morning is an entrenched ritual. According to IRI, 9 in 10 U.S. consumers eat during the morning hours an average of six times a week.1 Furthermore, 8 in 10 millennials claim to eat breakfast on a typical weekday.2 Over the last two years, many of us have become reacquainted with the daypart as WFH has provided a welcome opportunity to participate.
As we head back to the office over the coming months, convenience benefits may increase in relevance, but…there is another way in. A look at the headlines over the last ten years hints at another unmet need: excitement. We see content from health magazines, national morning television shows, Buzzfeed, Pinterest, YouTube and bloggers with the same key word in the title. It appears we have been suffering a national crisis in breakfast: boredom.
To overcome the monotony of traditional components, flavor profiles and preparations, we suggest replicating the sense of novelty and adventure we are continually embracing during the lunch and dinner dayparts. Namely, globally-inspired offerings. While breakfast is commonly viewed as a means to "provide sustenance and energy for whatever activities lay ahead,"3 culturally, we have different ideas on how to make that happen. While a "breakfast around the world" exploration certainly provides an opportunity to discover the next shakshuka, it's more about new ideas to start the day. Let's take a tour.
Small Plates
We find Asian mornings particularly inspiring, especially the savory leanings, Eastern breakfast proteins, wide variety of tiny portions, and the beautiful presentation afforded by an array of vessels varying in color, shape and size.
In Japan, micro-servings of fish, miso soup, pickled vegetables, rice, and sweet, rolled omelets (tamagoyaki) are common4
In Korea, rice, soup, grilled short ribs (galbi), seafood salad, stewed fish, seasoned kelp, kimchi,5 vegetables, rolled omelets (gyeran-mari) and pancakes (jeon)6 function like a morning tasting menu
Cold Cuts
Not only do we love the convenience provided by cold dishes and condiments, but we adore the new daypart for deli.
In Switzerland, cold cuts and cheeses are served alongside soft boiled eggs, rolls, fruit, a grain cereal, coffee and tea7
In Germany, cured meats and cheeses accompany raw vegetables, bread, jam and honey8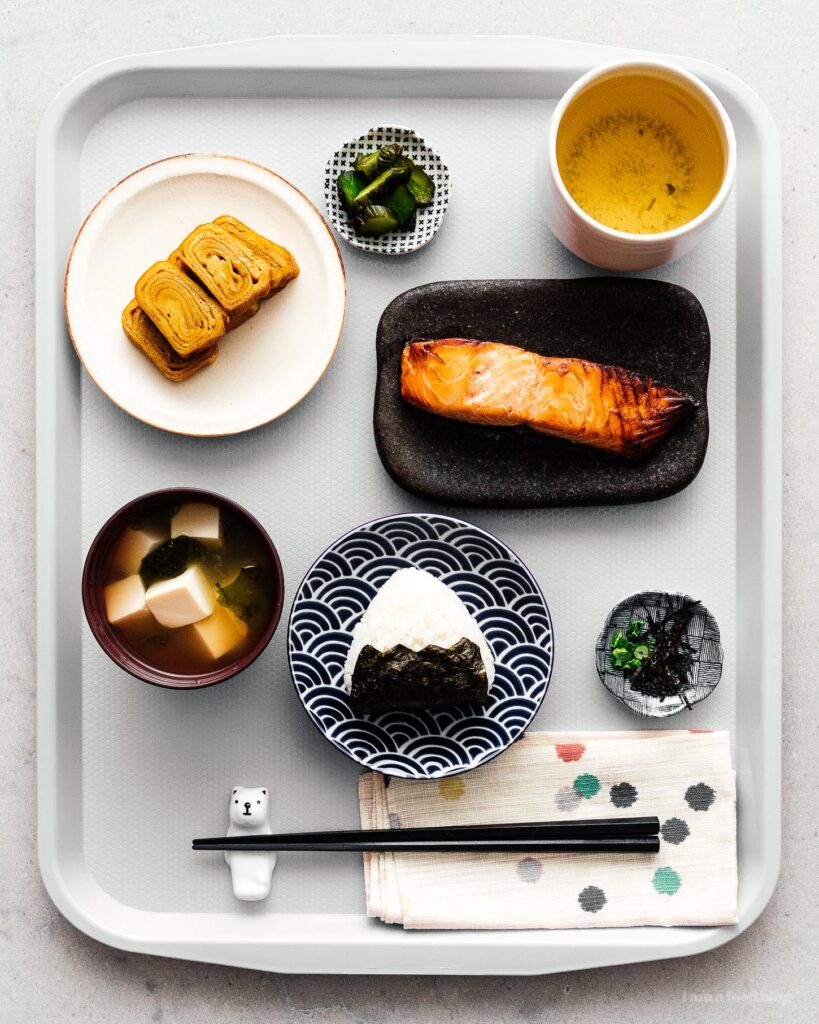 Better Bowls
While loading non-cereal, American breakfast foods into a bowl may be practical, it does not equal fun. However, our mouths are watering over the thought of bowls brimming with new things.
Burmese mohinga, a fish broth flavored by lemongrass, garlic, ginger and onions, thickened with rice powder, and served with noodles, and either fried fish cakes or a hard boiled egg9
Tunisian lablabi, a spiced chickpea soup, served with crusty bread10
Egyptian ful medames, a fava bean stew, customizable with olive oil, chili flakes, garlic, lemon, and cumin and served with hard boiled eggs, cucumber and tomato salad, scallions and tahini11
Australian coconut rice pudding, chilled and topped with exotic fruit12
Sheet Pan Breakfasts
Following in the footsteps of the "Sheet Pan Supper" craze, all-in-one breakfast tray bakes are emerging13
Jam 3.0
Though we thoroughly enjoy traditional fruit preserves, avocado and the Nutella and Biscoff spreads that hopped the pond, our heads spun around a few times when we realized what we were missing on toast.
Thanks to Singapore, there is kaya, a sweet, custardy and colorful (green) concoction made from coconut milk, sugar, egg and pandan leaf14
Pancake Substitutes
We admit, it's hard to be bored by pancakes. But now we have options.
Baghrir, a Moroccan, semolina-based crepe, topped with butter and honey15
Cachapas, a Venezuelan, sweet corn pancake filled with mozzarella and served with chicharron…or arepas, split and stuffed like a sandwich16
Syrniki, a Ukranian ricotta cheese pancake, topped with fresh fruit, preserves or powdered sugar (sweet), or sour cream (savory)17
Canjeero, a Somalian, spongy, sourdough flatbread topped with butter and sugar18
Macadamia pancakes, predicted by Yelp to be a U.S. breakfast trend in 202219
Jianbing or scallion pancakes, breakfast staples in Taiwan, topped with ham or bacon, cabbage, basil, peanuts and soy, hoisin or hot pepper sauces20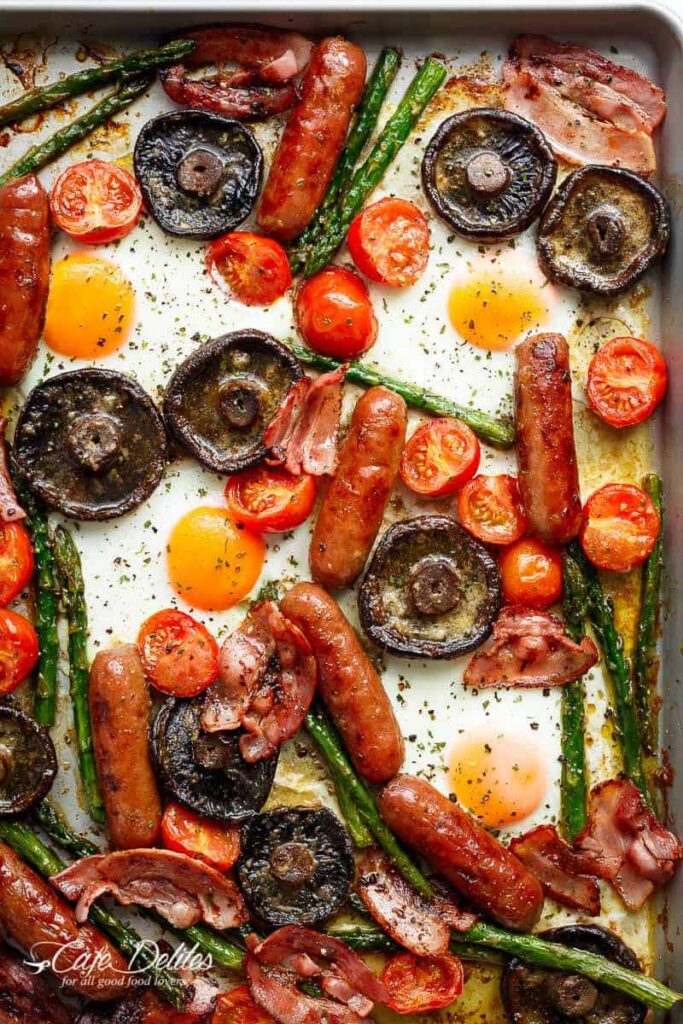 Coffees
We'll always be fans of adding flavor — without sweetness and calories — to our staple beverage.
In Senegal, café touba involves grinding coffee beans with selim pepper and cloves for a strong, spicy pick-me-up21
Morning Snacks
Roughly 5 in 10 consumers describe their morning meals as "mini breakfasts" or "morning snacks."22 We believe portion control is welcome in this daypart, to prevent us from sabotaging ourselves as we fuel.
In the U.S., we have noticed cereal behemoths launching snack packs23 and brands like Undressed, creating breakfast-worthy, savory snack bars with impressive health claims24
According to U.S. foodservice analysts, breakfast miniatures are a fun way to transform traditional favorites into portable, bite-size forms25
Floating Breakfasts
Breakfast in the pool, while not very practical, certainly qualifies as experiential and Gram-worthy.
Upscale hotels in Asia and the Pacific are offering room service that floats on a tray in your private plunge pool26
Friday Brunch
Finally, we admire the post-pandemic "treat yo' self" mentality born out of the blurred lines between work and home hours and the desire to reinvent the week.
In the U.S., workers are rewarding themselves on no-Zoom Fridays with leisurely meals out. Some restaurants have responded with Friday brunch menus from 11am–3pm27
In summary, innovation in American breakfasts need not fall into the current comfort zone. Our global citizenship and increasingly adventurous palates in other dayparts provide an opportunity to introduce new ideas from other cultures – especially those that elevate experience, leverage traditional ingredients in new ways, provide riffs on familiar dishes, or fall under our new definition of wellness: health and indulgence in equal measure.
[1] "The big business of breakfast: IRI spotlights pockets of growth in the category", Food Navigator, 2/03/22
[2] "Brands Are Betting On Breakfast – Do Young Consumers Eat It?", YPulse Survey, N=1,000, 4/19
[3] "Breakfast: The most important meal of the day?", International Journal of Gastronomy and Food Science, 7/17
[4] "Breakfast Around the World: How Different Countries Start the Day", CNN, 5/27/19
[5] "Homestyle Korean Breakfasts", The Spruce Eats, 10/01/20
[6] "What Breakfast Looks Like in 50 Countries", The Daily Meal, 1/17/19
[7] "The World's Best Breakfast: Which Country's Morning Meal is Tops?", The Thrillist, 6/13/15
[8] "What Breakfast Looks Like in 50 Countries", The Daily Meal, 1/17/19
[9] "Burmese Breakfast Stew", The Tasting Table, 12/15/21
[10] Allrecipes.com, 2022
[11] Epicurious.com, 2009
[12] Delicious.com, 1/28/22
[13] Taste, 2022
[14] NYT Cooking, 11/21
[15] "1,000 Hole Crepes", Saveaur, 12/02/15
[16] "What Breakfast Looks Like in 50 Countries", The Daily Meal, 1/17/19
[17] Punchfork.com, 2022
[18] YouTube.com, 2022
[19] "2022 breakfast food trend are the tastiest way to start the day", Fansided, 12/09/21
[20] YouTube.com, 2020
[21] "Café Touba Is the Senagalese Spiced Coffee Drink That's Better Than Any Seasonal Latte", Vice, 12/19/18
[22] "The big business of breakfast: IRI spotlights pockets of growth in the category", Food Navigator, 2/03/22
[23] "Post brings its cereals outside the breakfast bowl", Food Business News, 1/12/21
[24] "Savory bars shake up the snack bar category", Food Business News, 3/18/22
[25] "Breakfast Wins In Takeout", Flavor & The Menu, 6/13/21
[26] "What are floating breakfasts, and why have they become so popular?", CNN, 6/21/21
[27] "Friday Brunch: Work-From-Home's Forbidden Pleasure", WSJ, 1/21/22