When current times are hard, it's natural for people to yearn for the past. While "nostalgia" has been touted as a big consumer trend since the pandemic, the truth is, we've been here before. Some who've studied the phenomenon claim it's cyclical, something that happens every 12 to 40 years like clockwork, while others assert it's omnipresent in American culture.1 We subscribe to the latter, believing there are several "anywhere, anytime" triggers that drive people to look back with fondness, and not all of them are the result of a stressful present.
We see nostalgia showing up in two primary forms: Retro and something we call "Old Retold".
Retro
Short for retrospective, this is the version of nostalgia focused on looking back by bringing the past forward, just as we remember it. During COVID-19, we witnessed the comeback of many old, yet familiar things:
Classic Toys & Hobbies: puzzles,2 trading cards,3 walkie-talkies,4 drive-in movies5
Beauty & Fashion: tie-dyeing,6 fancy nightgowns,7 vintage Jordache jeans,8 snowsuits,9 and movie t-shirts,10 as well as "Saved by the Bell" and "Gilmore Girls" makeup lines,11 and press-on nails12
Music: Sea Shanty songs on TikTok13
Fitness: Jane Fonda's re-creation of her iconic workout video14
Art & Design: multiple black and white movie releases,15 and Audible's UK campaign, "shot in a vintage style that emulates airline ads of the past"16
Food & Beverage: baking bread,17 comfort foods,18 Depression cake (popular during the Great Depression as a workaround in the absence of milk, butter, or eggs),19 reviving ancient grains and forgotten crops,20 and KFC's re-release of its holiday buckets from 1966 and 197121
Today we see:
Entertainment: vintage photo booths22
Beauty & Fashion: 90's minimalism, vintage designer gowns on the red carpet,23 the return of cargo pants,24 and oversized blazers25
Music: Audiences embracing hits from previous decades, resulting in "old songs" comprising 70% of the U.S. music market,26 and renewed usage of corded headphones27
Food & Beverage: fast food revivals, e.g., Taco Bell's Mexican Pizza, Pizza Hut's Big New Yorker Pizza,28 the re-release of Good Humor's Frozen Viennetta Cake,29 interest in 1950's Victory Gardens,30 pizza burgers,31 old-school cereals,32 "milkman" delivery,33 a return to real butter,34 the resurgence and re-positioning of MSG,35 and efforts to preserve family, paper recipe cards36
Old Retold
This form of nostalgia refers to putting a modern twist on something iconic to create an offering that straddles old and new. Here are some examples:
We see:
Classic Toys & Hobbies: paint-by-number sets that are customizable using your own photo,37 and pinball machines with 4K LCD displays38
Beauty & Fashion: designer bowling shirts39
Music: popular remixes of Diana Ross hits like "I'm Coming Out" hitting the top of the charts40
Science: gene-editing technology, enabling scientists to bring extinct species back from the dead…but with new traits41
And a long list of Food & Beverage offerings:
McDonald's Adult Happy Meal collaboration with streetwear brand Cactus Plant Flea Market42
TikTok soliciting remakes of classic TV spots for Skittles and Snickers Ads43
Throwback treats reinvented for the wellness consumer, e.g., prebiotic sodas, and nut butter stuffed sandwich cookies44
K-12 cafeteria makeovers for the "cheese zombie" – dough balls stuffed with melted American cheese, sealed, brushed with butter, and baked – now made with whole wheat flour and white cheese45
Alcohol-spiked juice boxes and adult Capri Suns46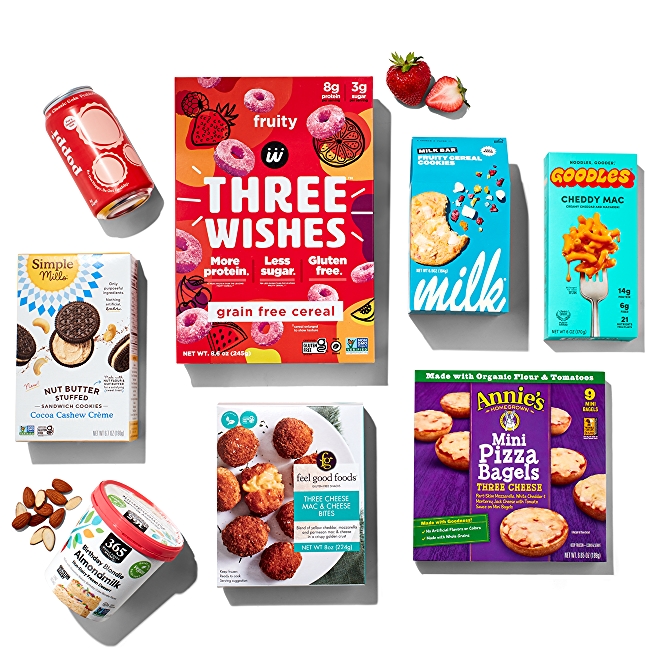 A bartender using fractional concentration to replace water in spirits with other liquids to add flavor, texture and create a boozier cocktail47
Reverse-style drinks, where proportions are inverted to create low-proof cocktails, e.g., a vermouth-dominant Manhattan, or an equal-parts Martini48
Cristalino, a newer category of tequila, oak-aged and filtered with charcoal49
New riffs on the classic martini, as seen in major cities across the country, with "many of them straying from the traditional template", e.g., espresso, apple, lemon drop, etc.50
The sourdough croissant, a new take on a French classic
Tahini moving from dressings and dips into brownies and ice cream51
New uses for pickle juice, like incorporating into salad dressing, drizzling over crudité, creating marinades for meat and vegetables, or a simple syrup for cocktails52
The "baked potato" revisited by The Harvey House supper club in Wisconsin, where potatoes are cooked sous-vide, smashed, fried crispy, and topped with cheddar and sour cream fondue, onion rings, chive batons and Nueske's bacon lardons53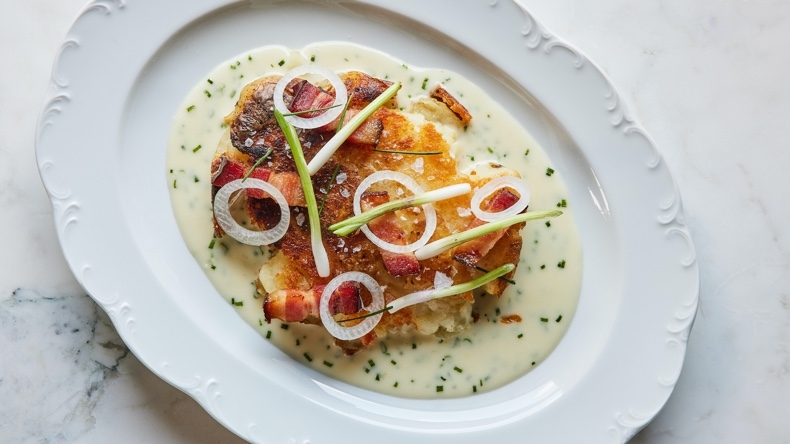 To leverage this trend, we recommend revisiting discontinued items with a historical following, digging deep into the archives of past products or programs, crowdsourcing customers for "what to bring back", and providing ideas to update classic offerings and comfort foods.
[1] "The 20-year Nostalgia Cycle – or Is It 40 years? 15?", Slate, 4/17/12
[2] "7 of This Week's Most Telling Marketing Stats, From Puzzles to Pent-up Wanderlust", Adweek, 5/15/20
[3] "Tech destroyed trading cards. Then tech (and the pandemic) brought the hobby back", The Washington Post, 6/21/23
[4] "Ready for Lunch? Over.' Walkie-Talkies Make Comeback with Folks Stuck at Home", WSJ, 4/12/20
[5] "Drive-in movie theaters poised for a comeback amid coronavirus crisis", New York Post, 4/20/20
[6] "Tie-dye is making a major comeback right now – here's why", TODAY, 4/29/20
[7] "Well, It Looks Like TikTok Users Are Reviving the Fancy Nightgown Trend", InStyle, 4/27/20
[8] "Jordache Seeks New Generation of Fans with Vintage Denim", Adweek, 5/29/20
[9] "The Onesie Snowsuit Makes a Comeback – Off the Slopes", WSJ, 12/28/20
[10] "$6,000 for an Aladdin T-Shirt: The Exploding Movie Merch Market", WSJ, 9/21/20
[11] "Makeup Trends: Halloween Returns with '90's Nostalgia", Happi, 10/28/21
[12] "Chrissy Teigen Is Hopping on the Press-On Nail Trend During Quarantine, Allure, 4/29/20
[13] "Sea Shanties Are Making a Comeback in 2021, Thanks to TikTok", Newsweek, 1/13/21
[14] "Jane Fonda joins TikTok, recreates iconic workout video to promote climate change protest", USA Today, 4/03/20
[15] "Why there are so many black-and-white movies in 2021", Vox, 11/09/21
[16] "Audible Gets Delightfully Vintage to Pitch Audiobooks as Glamorous Vacations", Adweek, 7/10/20
[17] "We're All Baking Bread Now (And Many of Us Are Failing at It), WSJ, 4/02/20
[18] "Triggering nostalgia with comfort foods", Food Business News, 11/09/21
[19] "No eggs, milk, or butter? Depression cake is making a comeback", TODAY, 4/21/20
[20] "Ancient grains and forgotten crops: the food of the future?" Food Navigator, 11/27/20
[21] "5 Beloved Food Brands Releasing Nostalgic New Items", Eat This, Not That, 11/21/20
[22] "Vintage Photo Booths Are Back, and Baffling Newbies. 'It's Not an iPad.'", WSJ, 11/06/22
[23] "The Biggest Vintage Trends of 2023, According to The Experts", British Vogue, 12/31/22
[24] "7 Fashion Trends That Will Take Over 2023 – Shop Them Now", Refinery29, 2/28/23
[25] "The 2023 Style Trends to Start Shopping Now, According to Experts", Glamour, 12/26/22
[26] "Is Old Music Killing New Music?", The Atlantic, 1/23/22
[27] "Are AirPods Out? Why Cook Kids Are Wearing Wired Headphones", WSJ, 11/13/21
[28] "Why nostalgia is all the rage", Nation's Restaurant News, 1/17/23
[29] "The New Nostalgia of Foods", Symrise, 12/23/22
[30] "Food Supply Anxiety Brings Back Victory Gardens", NYT, 3/25/20
[31] "New Nostalgia and Multicultural Everything for Food and Bev in 2022", Symrise, 4/07/22
[32] "19 Food and Drink Trends That Are Going to Blow up in 2023", Parade, 1/19/23
[33] "Udderly Delicious: Glass bottles of dairy fresh milk still delivered to Staten Islanders", live.com, 3/01/20
[34] "New Food Trends for 2023", U.S. News & World Report, 12/13/22
[35] "From the blacklist to the spotlight: How MSG is staging a comeback", 4/16/20
[36] "AS Recipe Cards Disappear, Families Scramble to Preserve Cherished Memories", WSJ, 1/29/19
[37] "Paint-by-Number Sets Are Back, Better and Even Customizable", WSJ, 5/20/22
[38] "Inside the race to (finally) bring pinball into the internet era", Fast Company, 6/28/19
[39] "Strike a Pose: The Bowling Shirt Is Back", WSJ, 3/01/20
[40] "Remixing Diana Ross Back to No. 1", WSJ, 6/19/20
[41] "Meet the Scientists Bringing Extinct Species Back from the Dead", WSJ, 10/11/18
[42] "McDonalds, Taco Bell tap into nostalgia with return of menu items, collectibles", Yahoo! Finance, 9/27/22
[43] "TikTok Asks for Remakes of Classic Skittles, Snickers and Old Spice Ads", Muse, 7/29/21
[44] "The Next Big Things: Our Top 10 Food Trends for 2023", Whole Foods, 2023
[45] "The best deal in town: East Bay kids still love cheese zombies, almost 60 years later", SFGate, 3/03/20
[46] "The Booze World's Latest Obsession Is Letting You Drink Like a Kid Again", Esquire, 3/05/20
[47] "Edinburgh cocktail bar owner invents technique to replace water content in alcohol", Edinburgh News, 4/23/20
[48] "Tap into the Upside Down", Punch, 4/09/20
[49] "A Clear-Cut Guide to a New Type of Tequila", Wine Enthusiast, 4/14/20
[50] "The Second Coming of the Appletini", NYT, 9/19/22
[51] "Flavor of the Week: Tahini, the versatile sesame sauce, expands beyond tradition", Nation's Restaurant News, 7/20/20
[52] "Give Your Pickle Juice a Second Life", Epicurious, 2/26/20
[53] "At the Harvey House, Joe Papach Takes the Baked Potato to the Next Level", Plate, 11/11/22